Are Live casinos legal in New Zealand?
Although the New Zealand government does not regulate online casinos, playing online in any form of online gambling is neither legal nor illegal.
You'll find that all online casinos we recommend have a license by either the UK Gambling Commission or the Malta Gaming Authority. Both are known for being very strict with the operators.

Any casino you join licensed by either one is considered to be safe and fair.
Are Live casinos rigged?
No. Live casinos are 100% fair and safe.
Playing with a licensed online casino will guarantee the best possible experience in a safe and secure environment. 
Regulators like the MGA and the UKGC have strict guidelines that operators must follow if they wish to obtain and maintain their license.
These guidelines cover safety and fairness standards for all games including live casino online ones.
You can verify this as you watch the action unfold through the HD streaming. Spotting any irregularities is easy when everything is happening right in front of your eyes.
All live games and the studio are checked regularly, while the equipment is certified as fair and the dealers vetted and trained to the highest standards.
When these many precautions are put into place, you can be confident that any live game you play is safe and fair.
What is a Live casino?
A live dealer casino is a section within an online gambling platform where you can play casino games that are streamed live from a studio and managed by an actual person.
Why play Live casino games?
Choosing live casino online games over digital ones comes with many advantages. They offer an authentic experience that no digital game can offer no matter how cleverly constructed it is.
Live Casino Games VS RNG (virtual) games
| | Live casino games | RNG (Virtual) games |
| --- | --- | --- |
| Immersion | ✔ | ✖ |
| Entertainment | ✔ | ✖ |
| Fairness & Safeness | ✔ | ✖ |
| Constant Evolution | ✔ | ✖ |
The pros of playing at a Live dealer Casino
As we've already mentioned, playing live casino online games comes with its own advantage and in the next part of this guide, we'll be going over some of the finer points of why you should join a live dealer casino table.
They're immersive
Nowadays, digital animations are impressive but nothing beats the real thing.
Live dealer casino games don't merely feel real, they are real in every sense of the word.
Everything from the cards, the chips, the tables and the dealer are real. You can see everything and although you are invisible to them, you can still communicate with the host.
This transports you within the game and offers you the possibility of being part of the action.
They're entertaining
Blackjack and Roulette are entertaining on their own, but in a live casino NZ setting, the fun factor reaches new levels.
Dealers are trained to engage players and encourage them to become active participants. They narrate the action and create an atmosphere of excitement.
Add into the mix elegant backdrops, clever lighting, and animations, and the experience will surpass everything else.
The end product is an immersive game that brings into your home all the entertainment of the live casino.
They're fair and safe
Games with an RNG computer are safe. The elaborate algorithm is checked often by third-party auditors to ensure randomness at every round.
But how does this apply to live casino games?
Live dealer casino games might not need an RNG computer but any feelings of uncertainty are easily dismissed since you can see all the action take place in front of you.
This, together with very strict regulations, certified equipment, and regular checks, delivers visibly fair games.
They're constantly evolving
One reason to play live casino games is that developers have only now started to discover what is possible.
Although the technology has existed for over a decade, live games are fairly new and a lot of experimentation is taking place.
This means that new things await in the near future.
Digital games are also evolving but at the moment the main focus is on live dealer casino games.
This has led to the release of games like Deal or No Deal and Crazy Time, just to mention some!
There is a lot of potential in this particular genre and in the years to come, we're expecting many exciting surprises.
One particular innovation that has hit the market recently blends online slots with live casino.
Live Buffalo Blitz features a studio with a giant slot machine, a host and a group of online players.
The only thing for you to do is place your bet from the multiplayer interface, while the dealer spins the reels.
Did you know?
Within the live casino NZ market, the most popular provider is Evolution Gaming. The company, which offers several tables and game shows, has grown dramatically over the last few years. Between January and June of 2020 alone, it saw a profit increase of 98%, a profit margin of 13% to 51%.
Most popular Live Casino games
Live casino games are not considered a novelty anymore.
Their first appearance online branded them as a novel alternative to virtual games.
However, with technological improvement, live games have become more immersive and entertaining, creating a genre of their own.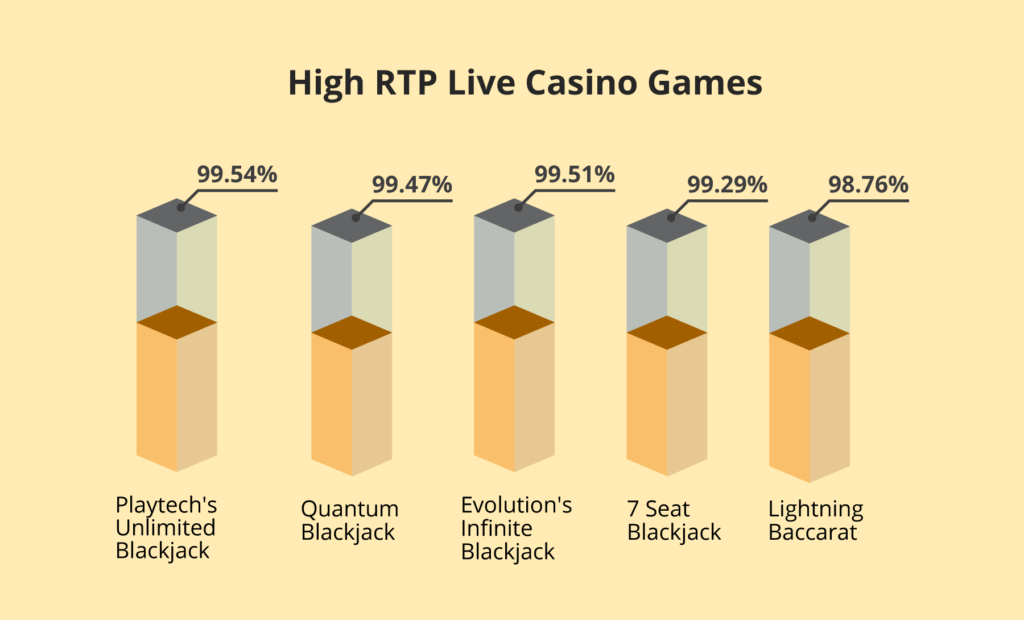 Live casino online games are made up of a combination of webcams, RFID sensors and real gaming equipment.
There is no need for digital animations or RNG computers.
Let's make an example with Roulette. Virtual Roulette requires a team of developers to create the table, the rules and the algorithm.
But Live Roulette, Live Blackjack, Live Baccarat or any other live game, don't need any of these since the action takes place for real without the assistance of an RNG computer.
Since the equipment is check and certified for fairness, everything runs just like in land-based casinos.
Live Poker
Online casino poker is played differently from traditional poker. Whereas during the latter you're playing against multiple players, in Live Poker your adversary is the dealer.
In a live casino online lobby you'll find different variants of poker: Ultimate Texas Hold'em, Casino Hold'em, and Caribbean Stud Poker just to mention a few.
Although all three come with different rules, each one requires you to make the best hand.
Live Blackjack
Blackjack is one of the most popular casino games ever.
Within the confines of a live casino, the game has evolved considerably bringing to the player a number of exciting variants.
You'll find traditional variants like Atlantic City and Vegas Blackjack, but also recent variations like Blackjack Party, Power Blackjack, Blitz Blackjack, and Free Bet Blackjack.
Each variant offers something different that could be anything from a novel theme, jackpots or special side bets.
Live Roulette
Roulette is another casino game that received new life with the emergence of live casinos.
In any live casino lobby, you'll find favourite classics; French, American and European Roulette, but also several enhanced versions.
Double Ball Roulette adds a second ball to the games, Live Rapid Roulette speeds up the action, and Lightning Roulette takes on the veil of a game show with multipliers and an electronic wheel.
If you're looking for something new and spectacular, then our advice is to visit a live casino lobby.
Live Baccarat
Baccarat might not enjoy the same popularity as other card games, but its simple rules and low house edge have made it a staple in casinos.
Developers like Playtech have added new sparkles to the game, giving us variants like Dragon Tiger and a variety of speed tables.
Live Dice
Dice games are also quite popular amongst casino goers.
Live Craps is becoming a favourite. Dealers are succeeding in replicating the adrenaline-charge atmosphere that governs a game of craps.
Apart from traditional versions of dice games, you'll find exciting variants like Lightning Dice and Super Sic Bo.
Game shows
Game shows are the latest innovative games to hit online casinos.
The same technology used in other live games is present too, but the feel and gameplay are completely different.
For many, live game shows are a welcome distraction from the norm.
Each and every game show released is highly entertaining, whether it consists of Deal or No Deal, Dream Catcher, or Monopoly Live.
Their appeal lies in the spectacular studios, and the fact that anyone can join.
Some are made up of different games like in the case of Crazy Time. All you need to do is predict where the wheel will stop by placing a bet.
Then, it is up to the dealer to create an exciting atmosphere for the best kind of experience.
Did you know?
In 2019, Playtech launched the first-ever live slot, entitled Live Buffalo Blitz. Live slots are considered to be a cross-vertical concept that enables players to participate simultaneously and share the same results. It features "community spins", where all players participate at the same time.
Types of Live dealer tables
As you start exploring live casinos, you'll find that there are two kinds of live casino tables: studio-based or land-based.
The difference is self-explanatory. They make use of the same technology: webcams, RFID sensors and backend verification software. It is the setting that differs.
Studio tables (Evolution Gaming)
As the name suggests, studio-based games take place in a specially allocated venue. The studio is set up by the owners to provide live casino games to a network of operators. Such is the case with Evolution Gaming.
Each studio must comply with rules and regulations, giving players peace of mind. From their part, the dealers are professionally trained to host games online.
Such is their training, that croupiers within a brick and mortar casino might not be necessarily versed to conduct such games without prior training.
Land-based tables (Authentic Gaming)
The demand for live games is such that developers like Authentic Gaming have managed to catch the life of a land-based casino online. There was only one way to this, to set up live streaming within an actual casino floor.
You can play Live Roulette from prestigious venues like the Hippodrome in London and the Aspers Westfield. Each table is set up with the usual array of webcams and RFID sensors, while a virtual interface allows you to sit at the table amongst actual customers.
Land-based tables deliver a higher level of authenticity, where the feeling is that of being in an actual casino.
Did you know?
Live Roulette is the most common game streamed live from actual casino venues. Authentic Gaming has successfully secured deals with prestigious casinos from all over the world to stream live tables of Auto Roulette, European Roulette and Blaze Roulette.
How to play Live Casino games
Live casino NZ games and game shows are easy to play. In essence, they are no different from their land-based counterparts.
Whether you are seated at a land-based casino or playing against an RNG computer, Blackjack and Roulette are still played in the same way. You need to know the rules and have a sufficient balance to participate.
One advantage that live games afford over digital options is the possibility to communicate with the dealer.
If you are uncertain about a rule or bet you can easily ask. The dealer is there not only to narrate the action but to answer any questions you might have. If you are a novice, this is a great way to learn.
However, knowing the rules beforehand is a huge advantage. Thus, we suggest reading our casino guides and reviews to start on the right track.
Once you're ready, you need a place to play.
Our casino reviews will provide you with all the knowledge you need to choose the best online live casino NZ for you.
However, before you start looking for the right live casino, you need to understand the process we follow when assessing a casino site. Simply put, you need to know how to choose the best live casino NZ online.
How to find the best Live Casino sites
Our reviews will point you towards the best live casinos online. However, it is important that you think for yourself. After all, your tastes might be different from ours!
We outline the facts and pass critique based on experience and industry standards. These are the tools you need to compare, pass judgment and make a choice.
So, while keeping that in mind, let's go over 9 tips to keep in mind when assessing a live casino:
Read our casino reviews
Look at what's being offered
Do they offer a live casino welcome bonus and other promotions?
Are the live casino players eligible for the VIP program?
Are there any branded tables?
What does the studio look like?
Technology and functionality
Learn from streamers
Check the wagering requirements
1. Read our casino reviews
Our casino reviews will tell you which operators offer live tables and any live casino NZ promotions available. The reviews also outline which provider and if there are any branded tables.
This will help you choose an operator that features your favourite provider.
We also include information about whether a live casino welcome bonus is available or not and if there are regular promotions. These are the best casinos to join if you're only interested in playing at the live tables. 
2. Look at what's being offered
Live casinos are quite impressive but you want games that come with matching technology.
It won't do if the games take ages to load and the aesthetics are not to your liking.
3. Do they offer a live casino welcome bonus and other promotions?
The best online casino experiences always start with a bonus.
Live casinos who want to be competitive offer at least one welcome bonus.
Ideally, they offer a number of regular promotions too.
How much credits/bonus money you get is important but so are the wagering requirements!
If the playthrough requirements are heavy, then the bonus might not be worth your time!
4. Are the live casino players eligible for the VIP program?
Some online casinos will have some kind of loyalty scheme. However, players are usually valued differently.
Before joining a new operator, you might want to check the bonus contribution weightings.
Slots are the only games that contribute 100%, while live games weigh much less. The norm is between 5% and 20% contribution of every real money bet towards clearing the bonus and earning loyalty points.
The higher the weighting percentage the better!
5. Are there any branded tables?
You know when an operator takes their live casino seriously when they offer branded tables. For example, Mr. Green Casino has its own selection of live casino tables.
These games are housed within the same studio as other live tables available across a network of casinos. But they bear the logo of the casino and can be found solely on that particular platform.
Branded tables give something extra to customers and are a symbol of quality.
6. What does the studio look like?
Live games are all enjoyable but the studios tend to look different. Evolution Gaming shares plenty of the same games with Pragmatic Play and Playtech, but the feel is completely different.
Some developers prefer to stick with traditional concepts while others go all out with their innovations.
7. Technology and functionality
Is it easy to play live casino online games?
These days all live games are available on both desktop and mobile.
Although basic functionality is a given, you should look out for extras like one-touch betting, side bets with progressive jackpots attached, and statistics.
8. Learn from streamers
A visit to Twitch will reveal plenty of live casino streams that can give you a feel of the games and valuable feedback. Watching such videos can help you learn strategies and tactics to put into practice when you're playing.
9. Check the wagering requirements
What are the betting restrictions when you're playing live casino games?
Do the contribution weightings favour live games?
These are very important questions that you need to ask when playing live games or game shows.
Did you know?
Some casinos in New Zealand also offer dedicated Live Casino promotions for Kiwi Players.
Play Live Casino games on mobile
These days live casino games are available even on your smartphone.
Casino operators will either have a mobile-optimized website accessible from your web browser or else a mobile app compatible with iOS, Android and Microsoft devices.
This means you can play whenever you want to from wherever you are.
Playing from your mobile pops the question: what about data consumption?
Live games tend to use up more data than digital games.
Online slots use only 1KB of data per spin, while live games consume a little more.
However, technological improvements have ensured that data consumption is as low as it could possibly be.
Nevertheless, if you are low on data, our advice is to use a wifi connection.
How do Live Casinos work? – "Behind the scenes"
From their sleekness, you might wonder what a live casino "behind the scenes" workings are like.
In practice, it is all very simple.
To host their live games, studios like those owned by Evolution Gaming have the following setup:
A studio dedicated to live games or a partnership with a land-based casino
Equipment and casino tables
A professionally-trained dealer
HD Webcams
RFID sensors
A virtual interface and online database
When everything is combined you get a game that plays out as if you are in a brick and mortar casino.
The action is broadcasted to a network of casinos, all of which would have struck a partnership to stream the live games.
All actions, including those executed on the interface by the players, are recorded within the online database.
Everything is cross-referenced against the results to determine the winners.
Did you know?
Some online casinos also offer Live Casino bonuses for the new Kiwi players.
Best Live Casino providers and software
And when we talk about live casinos, we have to mention some of the top providers in this genre:
Evolution Gaming: Evolution Gaming is undoubtedly the industry leader. Evolution is known for its high-quality games, particularly Live Roulette, Live Blackjack and other card games. Evolution is also the mind behind live game shows like Deal or No Deal, Monopoly Live and Dream Catcher.
Authentic Gaming: Authentic Games is the top supplier of land-based live games. It does offer some studio-based games, but its main fare is streamed live from actual casinos like the Foxwoods, the Hippodrome and the Grand Casino Bucharest.
Pragmatic Play: Pragmatic has not been around as some of the others but they have distinguished themselves quickly with high-quality games. Some of their tables that became instantly popular are Speed Roulette, Mega Roulette, Mega Wheel and Speed Baccarat.
Studio tables
At the moment, studio-based tables are the most common and the most popular. Land-based tables require more resources, mainly a partnership between the provider and a casino. For this reason, they are not so numerous.
Most land-based tables are provided by Authentic Gaming and consist mainly of Roulette.
On the other side, you'll find plenty of studio-based tables by the likes of Pragmatic Play, Playtech and Evolution Gaming. Studio tables enable more flexibility and offer different betting options making them more suitable for the player on a budget.
You'll also find an array of VIP tables, high roller options and variants of Roulette, Blackjack, Baccarat and Poker.
How do you register at a Live Casino?
Registering to play at a live casino NZ is not different than registering with any other casino.
Visit the casino homepage of the operator of your choice
Click the registration button
Enter all required details (full name, address, date of birth, etc.)
Validate your account
If available, claim your live casino welcome bonus
Visit the live casino section
Choose a game that is open and that suits your budget (most games are available 24/7)
Solutions for common issues when playing Live Casino games
Advances in technology have made playing live casino games a smooth and hassle-free experience.
There is everything in place to ensure fairness and transparency. The software is advanced enough to enable fast loading time and a seamless gaming experience.
However, if you've never played with a live casino before, you might have some easily resolved issues, which we'll tackle down below.
1. What happens if I lose my connection while playing a live casino game?
A steady internet connection is best if you want to play live casino games. If you lose your connection, the game will go on without you, but the casino will pay you any wins due if you'd already placed your bets.
Does this mean that once you get back online you'll find the money in your account?
If the casino transmission is interrupted, all bets will be refused.
2. I cannot use my welcome bonus on live games. Why is that?
Some online casinos prefer to lay out a separate live casino bonus for their live casino online players. While others offer a bonus that covers both online slots and live games.
However, this is quite rare as most operators limit their bonuses to slots only.
The best course of action is to read the terms and conditions carefully to find out if live tables are eligible for any live casino bonus, which tables you can play and what is the wagering contribution.
3. I want to try a live casino game for free first. How can I do this?
Regretfully a demo version of live games does not exist. Unlike digital games, live casino online games have a human factor and thus playing without commitment is not possible.
On the other hand, live games come with a large range of betting options, often starting from as little as $0.10, enabling all kinds of players to join.
Frequently asked questions
Dream Catcher is a live casino game show by Evolution Gaming, and the first game of its kind to be released across online casino. The game takes the form of a live money wheel spun by a live host in real-time and streamed directly to your desktop or mobile. Players can play by betting on any of the numbers on the wheel.
No, unfortunately, you cannot play live dealer games by Evolution Gaming for free. However, most tables and games have very low betting limits, allowing you to bet as little as NZ$0.20 per round.
There are many great live casinos that you can join from New Zealand, but the best ones are those that welcome you with a great bonus and that also run special promotions on live dealer games. We highly recommend Royal Panda NZ for this reason.