Crazy Time is a recent game show title from Evolution Gaming
Four unique bonus games with multipliers
Win an incredible top payout of 20,000 times your bet
Features a live dealer for added authenticity
Evolution Gaming is arguably the best when it comes to online game shows broadcast live. The developer has pulled out all the stops for its latest title called Crazy Time.
It borrows features from previous games like Monopoly and Dream Catcher, creating a supertitle that's full of rewards and surprises.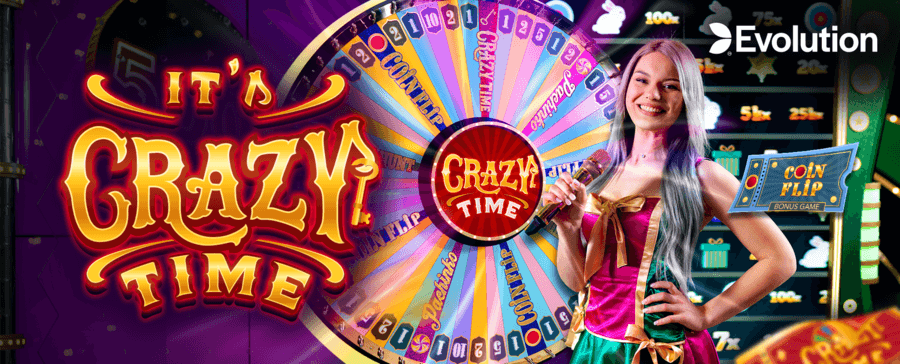 Crazy Time game show overview
Game Name
Crazy Time
Provider
Evolution Gaming
RTP
95.5%
Features

multipliers
4 different bonus rounds

Min Bet
$0.10
Max Bet
$5,000
Top Win
20,000x
Where to play Crazy Time game show from New Zealand?
You can enjoy this thrilling game show at several licensed online casino operators if you live in New Zealand. All you need to do is register an account with any reputable platform with Evolution Gaming titles if you don't have one already. 
Thanks to the developer's commitment to their mobile fan base, the game is optimized to work beautifully on any web-enabled device. All you have to do is enter the live casino show and wait for a new round to place a wager.
Due to the fact that this title is a live game, you'll need to deposit funds into your account before you get started. What's more, there's no demo mode or free play option.
However, you could watch other players for a few rounds to get a feel for the game before betting any of your own real money.
What is Crazy Time game show?
So what exactly is Crazy Time? In essence, the title is a game show that's based around a giant spinning wheel. The game seems to be inspired by a culmination of features from some of the developer's best live games.
In fact, Evolution Gaming built the game around the money wheel concept popularised by its successful Dream Catcher title. But rather than relying on the wheel, several additional features exist.
For starters, there's a two-reel slot that can add multipliers to your bet if you predict correctly. There are also four separate bonus rounds, each with its own mini-game and more cash prizes and multipliers. These bonus games are Crazy Time, Coin Flip, Pachinko, and Cash Hunt (more on each of these below).
The game show uses advanced technology and the latest interactive elements. Overall, you can expect a different multiplier in two of the four bonus games you enter.
How to play Crazy Time game show
Starting any game for the first time is usually confusing. In this section, we take you through the steps required to play this insane game show. That way, you're ready to tackle the wheel, knowing full well how everything works.
The first step to starting any game involves logging onto your online casino account. From here, you'll need to navigate to the live casino section.
Either search for the title by name or use the provider filter to find Evolution games. As soon as you load Crazy time, you're taken to the casino floor where a professional dealer stands in front of a wheel.
As this title is a live game, you may need to wait for the current round to end before placing a bet. As soon as a new round starts, you'll have eight different options where you can stake real money.
Select your desired stake amount and place either one or multiple wagers.
You'll see the betting limits as well as the eight options listed at the bottom of your screen. There is a time limit before the round starts, so make sure you don't take too long to pick your prediction.
There are 54 individual segments on the wheel.
Each section relates to one of the eight betting options. The lower valued numbers appear more often, compared to the higher paying symbols.
The most lucrative bonus game, Crazy Time, only features once on the wheel, decreasing the chances of landing on the segment multiple times.
A two-reel slot activates before the host spins the money wheel at the beginning of each round. On the first reel, you'll see the eight betting options.
On the second, you'll notice different valued multipliers. If your prediction appears on the reels and the wheel stops on that segment, your win gets multiplied by the displayed amount.
Furthermore, you'll need to wager on one of the bonus rounds to get the opportunity to play that particular round. If the wheel lands on one of these four bonuses and you didn't select the option, you'll have to watch the other players who predicted correctly.
Payouts occur right after the wheel lands on one of the numbers. If it lands on a bonus game, you'll only receive your winnings once that round ends.
Another big advantage to this title is that if you do win, the funds will immediately appear in your account's balance.
After that, the next round begins, allowing you to place a fresh bet and get another chance at the very attractive top payout.
Bonus rounds
This incredible game show boasts an additional four interactive bonus rounds to further your potential earnings. Let's take a look at each of these modes in a bit more detail.
Coin Flip bonus game
The first bonus game we'll look at is Coin Flip. The premise is straightforward and involves flipping a coin. You need to select either red or blue, and then the host flips the coin. You'll receive the multiplier if you choose correctly.
Next is Pachinko, a game popularised in Japan. You'll see multipliers listed at the bottom of a grid. The host drops the ball into the selected slot.
Whatever value it lands on is the amount your wager gets multiplied by.
Cash Hunt bonus
The Cash Hunt involves a large screen that initially starts by displaying multipliers. These values then transform into various symbols, hiding the multipliers from view.
The colourful icons get shuffled around. Pick any one of the symbols and shoot a large cannon to reveal your multiplier.
Crazy Time wheel bonus
Finally, there's the Crazy Time bonus. Here, you're transported to a massive wheel with the potential to earn enormous multipliers.
Pick one of three different coloured arrows and whatever it points to at the end is your prize. You can win up to 20,000x your bet in this round!
Crazy Time game show payouts
This game is very transparent with its payouts, indicating the values at the bottom of every betting option. As we've mentioned, there are eight different options available.
Four of these bets are numbers that appear on the wheel.
Placing a bet on number one will earn a 1:1 payout, meaning if you stake $1, you'll receive $1, plus your original bet.
The number two earns you a 2:1 payout. For every $1 you bet, you'll receive $2 as well as your initial stake.
Placing a wager on the number five option pays out 5:1. This means you'll receive $5 for every $1 you wager on top of your original stake.
If you pick number ten, you'll receive a 10:1 payout. You'll get $10 for every $1 you stake plus your original stake.
Payouts in the bonus rounds are also straightforward. When the wheel lands on a bonus round that you chose, it uses the bet size you opted for at the beginning of the round.
That means you can't state more when you get into one of these modes. It calculates your winnings in the bonus round according to the multiplier you land on.
Cash Hunt: Earn up to 75 times your original stake.
Pachinko: You can earn a multiplier up to 500x your bet.
Coin Flip: Stand a chance to win up to 5,000 times your initial stake.
Crazy Time: Win up to 20,000 times your original bet.
Crazy Time game show strategy
As with all casino games, there's a large amount of luck involved when it comes to winning in Crazy Time. However, with that being said, you can put together a strategy to ensure you stay in the green.
The fact that you can place a bet on all of the possible options ensures you can potentially win every time. Obviously, this isn't recommended as you stand to lose more than you can gain in the long run.
One particular strategy involves placing a bet on the bonus rounds on every turn. This is a safe bet, but you'll need a budget that supports it.
There are massive multipliers in the bonus round, so even placing $1 on each mode gives you the chance to take part.
Graphics & sounds
The fact that the game is live means that the graphics don't get any more realistic. It keeps to the theme of its title by offering an abundance of colours and lights, making for an unforgettable experience.
The glamorous hosts further the excitement felt in the game, giving you the impression you're playing a televised game show.
In the background, you'll notice some wacky coloured patterns, each one indicating one of the bonus games.
The betting options float at the bottom of your screen in an almost holographic manner. What's more, you'll see the previous results, aiding you in your strategy.
When the wheel lands on the Crazy Time round, you're transported to a magical world full of exciting animations.
As far as sound goes, the title uses tunes you'd expect from a game show. If you're a fan of fast-paced jazz, then you'll love this game show.
Other game shows to play if you like Crazy Time
If you enjoy playing Crazy Time but would like to try out some similar titles, consider giving these alternative options a go:
Crazy Time review – Conclusion
If you're looking for a great game of chance with practically no skill required, Crazy Time's setting and simple mechanics provide unlimited entertainment.
Additionally, the option to place multiple bets means you have a good chance of winning some fabulous prizes.
There are massive multipliers when you enter one of the bonus games, and let's not forget the max payout of 20,000x if all your lucky stars align – no wonder Crazy Time Game Show is available in all of the best casinos in New Zealand.
Overall, we believe this Evolution Gaming title offers the complete package, bursting with possibilities.