Wouldn't it be great if all casino bonuses in New Zealand came with no wagering requirements?
Although most casino bonuses come with standard playthrough requirements of between 20x and 50x, there are some online casinos in NZ without them!
This means that any wins achieved through the use of that bonus go right to your cash balance instead of your bonus balance.
These no wagering bonuses can take various shapes like free spins with no wagering requirements, no wagering welcome bonus, and even no wagering offers for existing players.
The trickiest part is locating a casino site in NZ without wagering requirements.
Since many online casinos are venturing into the New Zealand market, Kiwi players can be on the lookout for the best casino sites with no wagering requirements!
In the meantime, you might want to learn more about these playthrough requirements, and how some of the best casinos bonuses tend to do away with them!
Check out these special Spring promotions just in time for Easter!
Best Casino Sites No Wagering Requirements in NZ
Although coming across a casino site in NZ with no wagering requirements is as rare as stumbling across an oasis in the middle of the desert, they do exist!
As a site committed to bringing to the attention of our visitors the best online casinos and the best bonuses, we are on the hunt for the best online casinos with no wagering requirements.
Check back for regular updates!
What are Wagering Requirements?
If you are familiar with online casinos and you've made use of casino bonuses, then you know that such offerings come with certain terms and conditions.
Wagering requirements often bind the player to wager his deposit or bonus or both a number of times before he can withdraw any winnings.
Let us give you an example:
Let's say that a bonus offer of a 100% deposit match comes with x35 wagering requirements for both the bonus and the deposit.
If the player deposits NZ$100 and receives an additional NZ$100, then he must wager NZ$200 by 35 times.
This means that he has to bet NZ$7,000 before he can withdraw his winnings.
If the terms refer to the bonus only then each player must wager NZ$100 by 35 for a total of NZ$3,500.
If on the other hand there are no wagering requirements, the player is not bound to wager anything and any winnings can be withdrawn right away.
A similar scenario applies to free spins offers. Since the offer does not involve bonus money, the wagering requirements would apply to any winnings incurred.
For example, let us say you've been playing at the pokies using a number of free spins.
From those spins, you won NZ$200 and the wagering requirements are x35. That means that you have to wager NZ$7,000 before you can withdraw those NZ$200 or any future winnings.
Should the offer come with no wagering requirements, it means those NZ$200 go right in your pocket without having to commit additional funds.
It is easy to see why bonuses with no wagering requirements or with low wagering are so popular amongst players.
The idea of cashing out your winnings at your convenience without having to commit thousands of pounds is quite attractive.
That is now we will now proceed to tell you everything we know about no wager bonus offer!
Types of Casino Bonuses without Wagering Requirements
There are various types of no wagering bonuses offered either by the same platform or else by different casinos.
These might vary from free spins with no wagering requirements, no deposit bonus consisting of free spins with no wagering deposits, a deposit no wagering bonus or else even a no wagering bonus for existing players.
In the next part of our article, we are going to take a look at all the options that are available for Kiwi players in terms of no wagering bonuses!
Free spins with no wagering requirements
Free spins are amongst the best offers to be found at the best online casinos in New Zealand. They are even more enjoyable when they come with no wagering requirements.
Unfortunately, no wager free spins are quite difficult to come by.
When they are offered they could either be part of the welcome package, a regular promotion or else a limited-time-only offer. In most cases, a small deposit is still required and there are still terms and conditions to be checked out.
The only difference is that wagering requirements are absent and any winnings can be withdrawn right away.
Free spins no deposit no wagering requirements
Free spins no deposit no wagering are the best of all casino promotions!
Not only are wagering requirements non-existent but players do not need to deposit to be able to claim these free spins.
No deposit free spins are often awarded by the casino the moment you register for an account and will appear automatically in your account.
As generous as the no deposit no wager free spins are, do not expect to receive hundreds of them.
When available they don't usually top the 20 free spins, however, we still enjoy the no string attached factor!
No wagering welcome bonus
Although the idea of a no wagering welcome bonus is really, really attractive, this is perhaps the hardest no wagering bonus to come across.
Almost all online casinos in NZ offer a welcome bonus, however, as this is the main offer it is very difficult to find one without any wagering requirements.
The most you can come across is a welcome bonus with low wagering requirements that applies for the bonus money only.
No wagering bonuses for existing players
No wagering bonuses for existing players can be regular promotions awarded in free spins or else limited-time-only promotions consisting of either free spins or bonus money.
Another way they can be awarded is through tournaments.
Some tournaments provide players with a predetermined set of free spins or bonus money to use on a specific pokie, where the player with the highest win from a single spin wins the first prize.
Most casinos choose to reward players in cash money, which comes with no wagering requirements and can be withdrawn instantly.
A casino that offers tournaments where prizes are awarded in cash with no wagering requirements is Joy Casino. This thrilling platform has always something going on so why not check it out for the latest tournaments!?
Low wagering casino bonus
And if you can't find any no wagering bonus you can opt for the next best thing and go for a bonus with low wagering terms.
These are more common than no wagering bonuses and Kiwi players are more likely to come across these in their hunt for the best casino promotions.
In terms of low wagering requirements, these would usually be around x10 or x20.
Something else to keep in mind when choosing a bonus is to always go for one that binds only the bonus money or the deposit, as the amount to be wagered is a lot less than when both are included.
Lucky Days Casino offers many generous promotions and although they don't come wager-free, the wagering requirements at this casino are at x25 for both bonus money and free spins.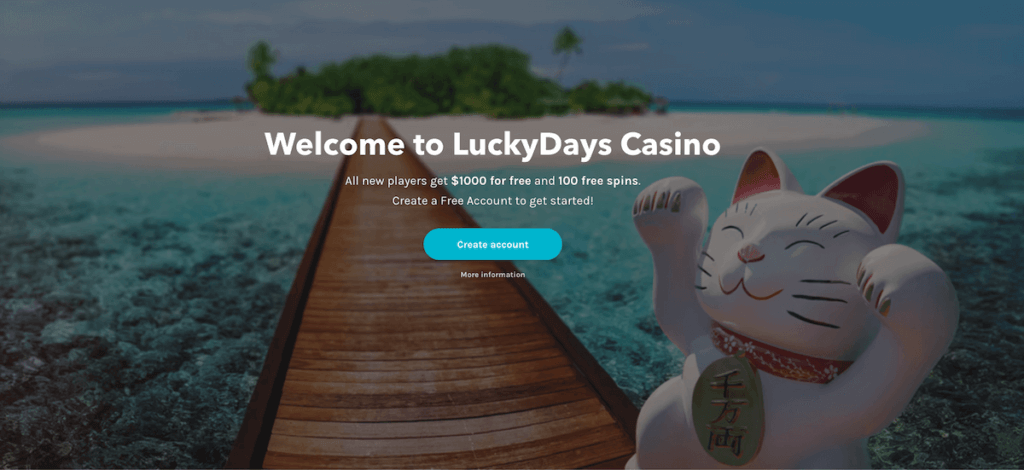 At x25 they are considered amongst the lowest especially as standard wagering terms usually stand between x30 and x40.
Find an Online Casino Without Wagering Requirements!
As we have mentioned in this article bonus offers with no wagering requirements are quite rare to find, however, they are certainly not impossible.
When we review an online casino we take a good look at their bonus offers and the terms and conditions, pointing out to our readers any wagering requirements involved.
That is why we invite our visitors to check out our casino reviews for the safest and most rewarding casinos. Any no wagering promotions will be included in the review making it easy for our readers to locate the best casino sites with no wagering requirements!
Frequently asked questions
It is quite easy to work out how much you need to wager in order to cash out your winnings. Let us make an example! You have a 100% deposit match bonus and you deposit NZ$100. That means you receive an additional NZ$100 to play with. Depending on the terms and conditions the wagering requirements can apply either to the bonus money only or to the deposit only, or else to both of them. If it is for both and wagering terms are x35 then it is NZ$200 by 35 make NZ$7,000 to be wagered.
Wagering requirements are imposed by the casino on any bonus funds and sometimes the player's deposit, whereby the player is obliged to bet a certain amount of money before he can withdraw the bonus and any winnings.
Offers with no wagering requirements means that although players might be required to place a deposit to make use of them, there would be no wagering requirements in the terms and conditions of the promotion.