If you love playing pokies and you're aiming sky high, then it's those progressive jackpot pokies that you should set your eyes on!
These games look like your usual video slot or online pokie machine, but have one main distinguishing characteristic – they are linked to a huge jackpot that keeps on increasing until it is won!
Thanks to the increasing number of online casinos and players these days, some progressive jackpot pokies pay out millions of dollars in winnings to lucky winners.
In this guide, we'll introduce you to the top 8 jackpot slots online that you can play from New Zealand, so you can start aiming for that big win!
Top 8 Progressive Jackpot Pokies
And now, let's get down to our hand-picked list of top progressive slots that you can play, based on their RTP and payout potential.
These pokies can be played at multiple online casinos, and players will contribute to the pot wherever they play them from.
It is for this reason that they pay out such massive amounts, as there are always hundreds of players spinning on them at any given time.
1. Mega Moolah (Microgaming)
| | | | |
| --- | --- | --- | --- |
| RTP | 96.92% | Min Bet | 0.01 |
| Volatility | Medium | Max Bet | 6.25 |
| Max payout | 225 000x (coins) | Biggest Jackpot won | NZD$32,829,081 |
Microgaming's Mega Moolah is the first progressive slot to come to mind and for good reason. This game has been around for years and has set world records when it comes to its jackpot payouts.
The highest prize was paid out in 2018 when a player won €18,915,872.81 (equivalent to about NZD$32,829,081 at the time of writing this article).
To win the Mega Moolah Jackpot, you need to trigger the Jackpot Wheel, which can happen at any random moment.
Once you're in, you will have the opportunity of winning 1 of 4 progressive jackpots: the Mini, the Minor, the Major and the Mega.
Besides the jackpots, Mega Moolah also comes with free spins and a multiplier wild.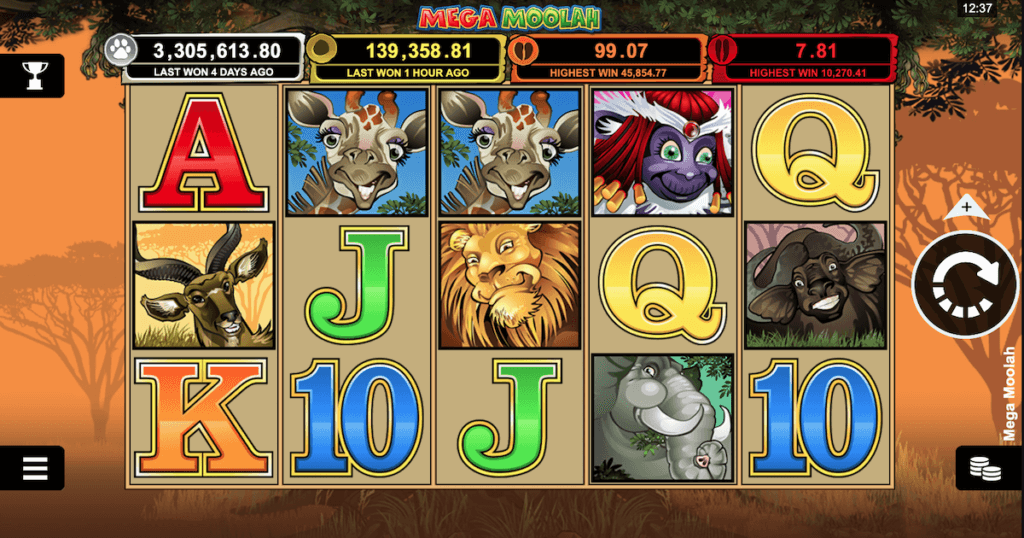 2. Major Millions (Microgaming)
| | | | |
| --- | --- | --- | --- |
| RTP | 89.37% | Min Bet | 0.20 |
| Volatility | Low | Max Bet | 3.00 |
| Max payout | NZD$1,000,000+ | Biggest Jackpot won | NZD$1,146,407 |
Another 'major' title by Microgaming, Major Millions is a military-themed slot connected to a huge progressive jackpot.
It's a straightforward 5-reel, 15 payline pokie game, with the only additional features being the wild and wild multipliers (where all wins including a wild are multiplied by 3).
Players can choose how many paylines they want to be activated on each spin, but to win the Major Millions jackpot, they need to have the 15th payline activated, as the progressive jackpot will fall if you get 5 wild symbols on this payline.
The Major Millions jackpot normally pays out well over 1 million dollars.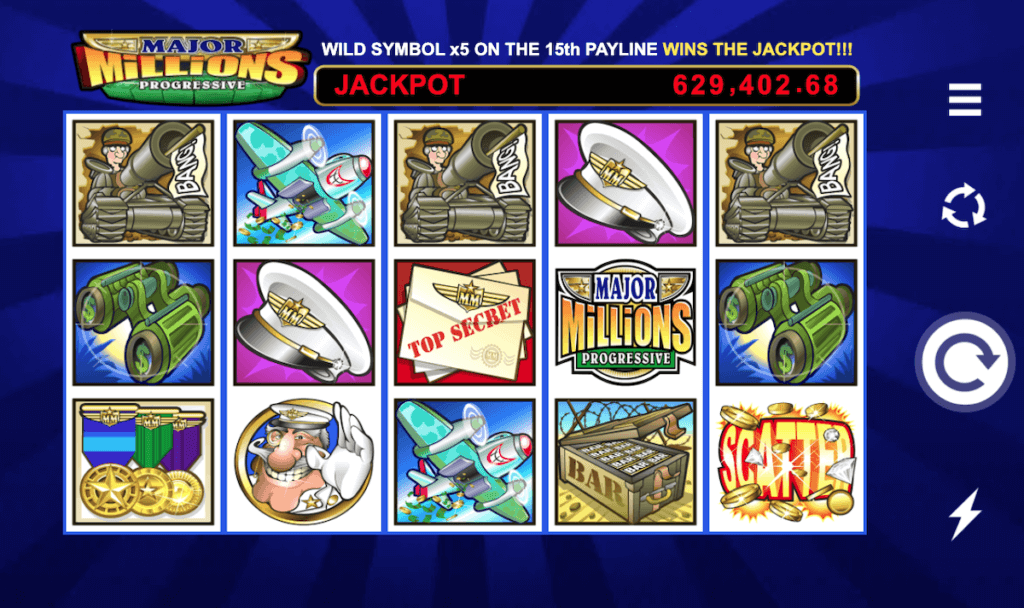 3. Hall of Gods (NetEnt)
| | | | |
| --- | --- | --- | --- |
| RTP | 95.5% | Min Bet | 0.01 |
| Volatility | Medium | Max Bet | 100 |
| Max payout | 4,314x wager + 3x free spin multiplier | Biggest Jackpot won | €3,687,073.85 |
Hall of Gods is a Norse-themed progressive slot that comes with 3 jackpots: the Mini, the Midi and the Mega.
Featuring the God's Thor, Loki, Freya and Odin, Hall of Gods takes you on an adventure above the clouds in search of riches – should the gods favour you!
To win the Hall of Gods jackpot, you need to trigger the bonus game by landing 3 bonus symbols, then you'll get a chance to smash the shield with Thor's hammer and reveal at least 3 matching symbols (which can either be cash amounts or one of the jackpots).
While the Mini and Midi jackpots are local jackpots that differ from one casino to another, the Mega jackpot is progressive and starts at £500,000 (although the average win on Hall of Gods is around NZD$8,000,000).
Hall of Gods also comes with a free spins feature where all payouts are trebled and have a decent RTP of 95.7%.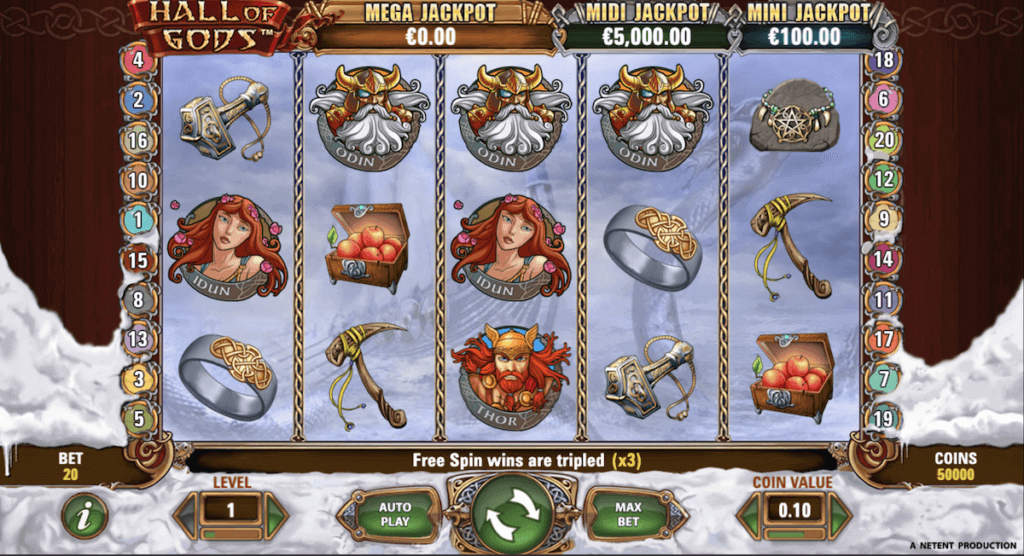 4. Mega Fortune (NetEnt)
| | | | |
| --- | --- | --- | --- |
| RTP | 96.6% | Min Bet | 0.25 |
| Volatility | Low | Max Bet | 50 |
| Max payout | 2,162x | Biggest Jackpot won | €2.6 million |
Another NetEnt classic, Mega Fortune has been around for years and has remained popular thanks to its huge jackpots and entertaining gameplay.
The game comes with a free spins round with a multiplier of up to 5x and a payout potential of 2162x (not counting the jackpot!).
There are 3 progressive jackpots connected to Mega Fortune, which can be accessed through the bonus game.
The game plays out in the form of a wheel that awards cash prizes or jackpots.
To win a Mega Fortune jackpot, you need to land on a series of arrows that will take you to them, rather than a coin win.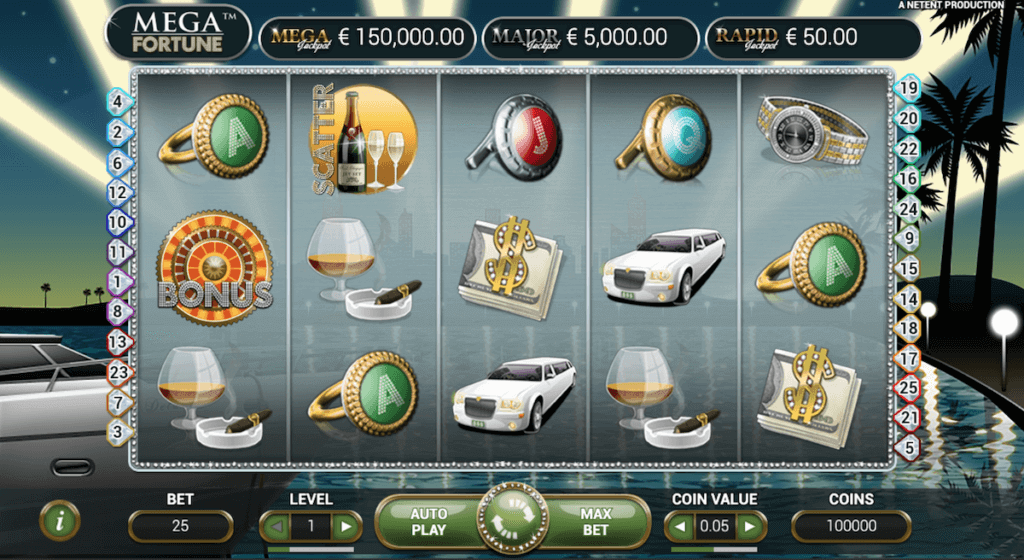 5. Age of the Gods (Playtech)
| | | | |
| --- | --- | --- | --- |
| RTP | 95% | Min Bet | 0.01 |
| Volatility | Medium-High | Max Bet | 25 |
| Max payout | 2,000x | Biggest Jackpot won | £850,000 |
Age of the Gods is actually a series of progressive jackpot slots by Playtech. Still, the original Age of The Gods remains the most popular of them all.
The game has the Greek Gods Athena, Poseidon, Hercules and Zeus as its main protagonists and has 4 progressive jackpots, whose seeds start at the following amounts:
Power Jackpot – £50
Extra Power Jackpot – £500
Super Power Jackpot – £5,000
Ultimate Power Jackpot – £100,000
The overall RTP of Age of the Gods slot is 95.02% and volatility is medium to high. What we love about it is that you can still get really high payouts, even if you don't win a jackpot.
In fact, you can win 50,000x your stake if you're lucky with the free spins multipliers, and up to 10,000x the stake in the base game alone!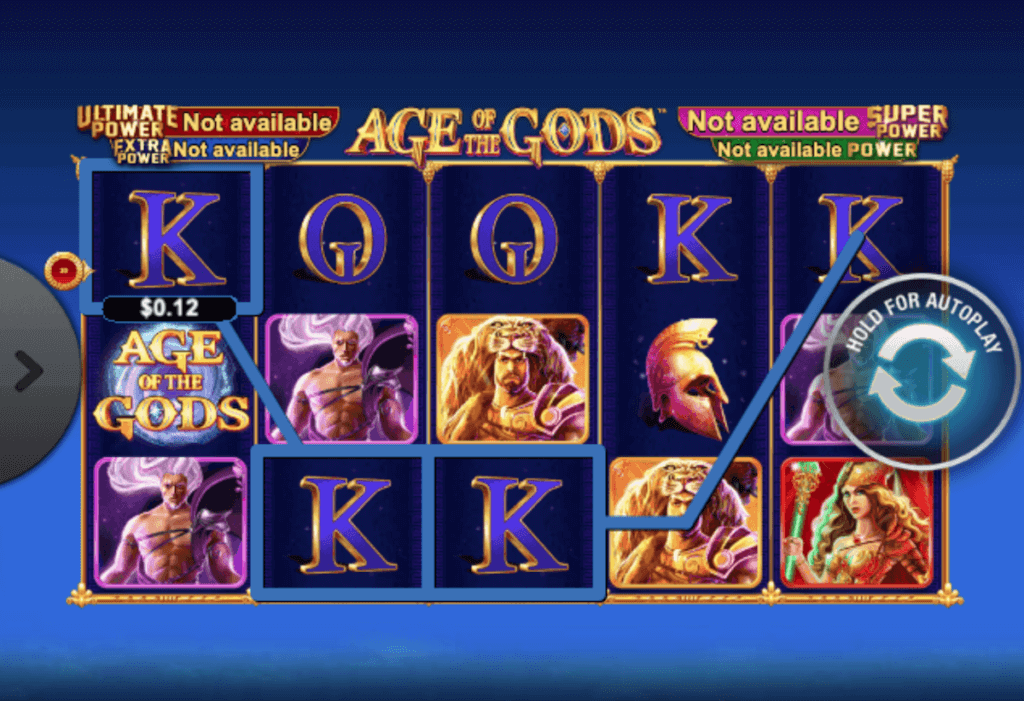 6. Cash Splash (Microgaming)
| | | | |
| --- | --- | --- | --- |
| RTP | 91.47% | Min Bet | 0.20 |
| Volatility | Low | Max Bet | 3.00 |
| Max payout | x5,000 | Biggest Jackpot won | NZD$109,493.82 |
Another Microgaming favourite, Cash Splash is appropriately named to denote the riches in store for lucky winners. The slot is reminiscent of the old pokie machines, with its traditional fruit, bars and 7 symbols, but is linked to a massive progressive jackpot.
Similar to Major Millions, the Cash Splash Jackpot can be won if you land 5x bonus symbols on the 15th payline, at the maximum bet level of just $3.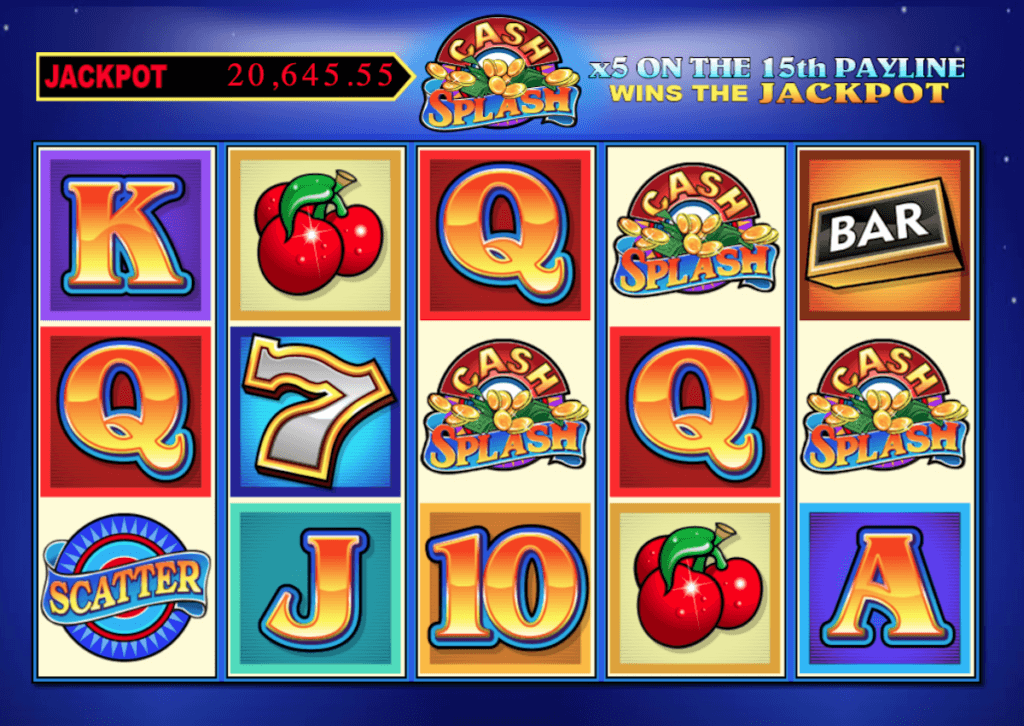 7. Treasure Nile (Microgaming)
| | | | |
| --- | --- | --- | --- |
| RTP | 92.11% | Min Bet | 0.50 |
| Volatility | Medium | Max Bet | 4.50 |
| Max payout | x6,000 | Biggest Jackpot won | $500,000 |
Treasure Nile is a straightforward, Egyptian-themed progressive pokie. There are no special features in Treasure Nile, besides the wild symbols, scatter pays, and the possibility to win the progressive jackpot.
This jackpot starts from $40,000 but usually pays out much more!
To win the Treasure Nile jackpot, players must land on 5 Pharaoh symbols on the 9th line, which requires them to play the slot at the maximum bet level. Its mostly a game for those jackpot hunters out there who are feeling lucky, and comes with a rather low RTP of 92.11%.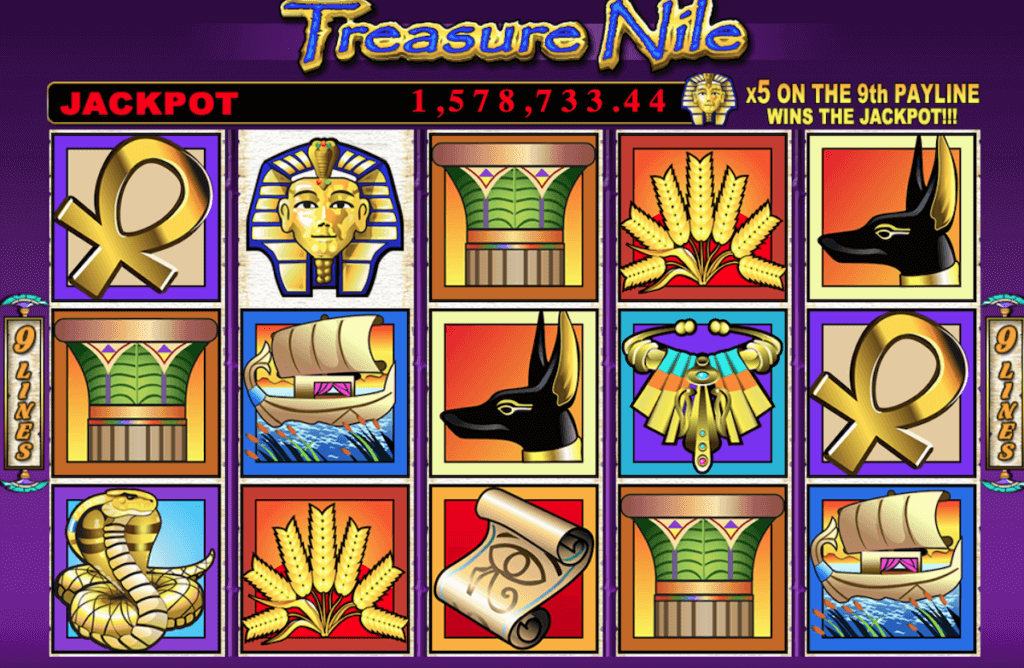 8. Joker Millions (Yggdrasil)
| | | | |
| --- | --- | --- | --- |
| RTP | 94.3% | Min Bet | 0.25 |
| Volatility | Low/Medium | Max Bet | 25 |
| Max payout | €62,500 | Biggest Jackpot won | €7.83 million |
Yggdrasil's most popular progressive slot, Joker Millions is an attractive 5-reel pokie featuring the cheerful character of the Joker, alongside other classic pokie machine fruit symbols.
Quite recently, in September 2019, a player won €3 million on Joker Millions, although the seed starts at €100,000.
To win the Joker Millions jackpot, you first need to land on 5 joker symbols. You'll then get5 mystery wins ranging from 5 to 2,5000 coins, whereas the jokers will freeze into place.
The reels will then keep spinning for as long as a joker symbol lands, and each new joker will stick on the reels for the remaining respins.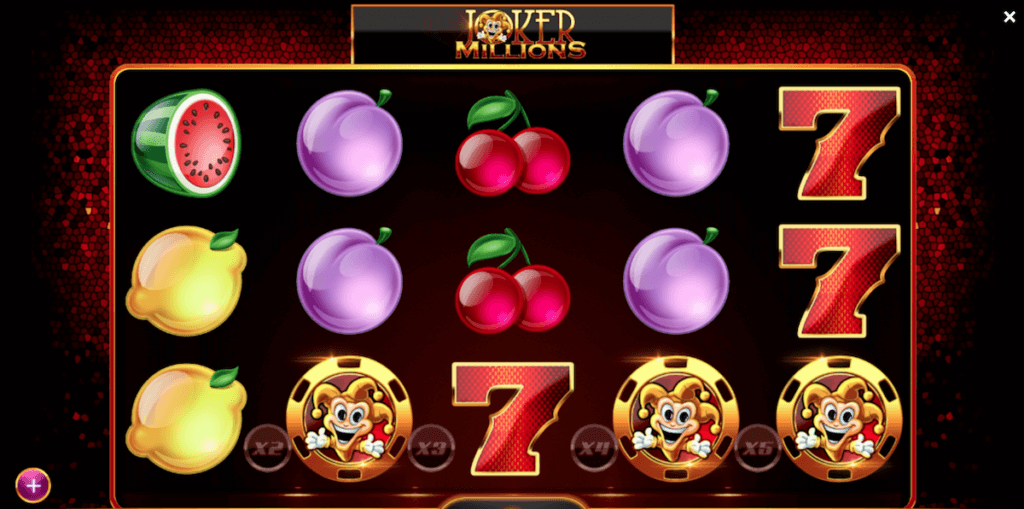 Latest Jackpot Slots for New Zealand Players
As jackpot slots increase in popularity, so do the number of jackpots available.
Most game providers are not launching a new jackpot slot every month, however, this year has seen the debut of a few popular progressive slots. Let's take a look at our recommended new jackpot slot.
Pork Knox – NetEnt
Pork Knox is a new progressive slot by Netent that just launched over the summer of 2021. Slot players might recognize the Piggy from another NetEnt slot, Vegas Night Life, which has been revamped in this new release.
Players will notice the large jackpot at the top of the game screen and can unlock features like free spins, instant wins, and cash stacker symbols.
There are also multiple jackpots available to claim in this slot!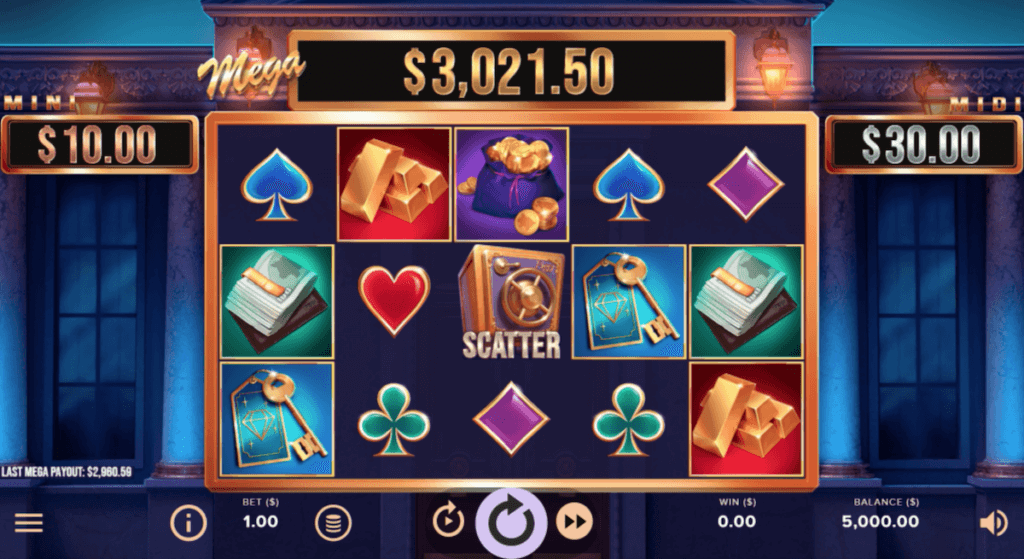 What are Progressive Jackpot Slots?
Jackpot slots are linked to one or more jackpots that increase every time a player makes a bet and doesn't win.
These pokies can look like any standard slot machine, and may feature a different number of paylines, reels and a host of other features.
The only distinguishing trait is that on top of the reels, you'll be able to view a jackpot meter, which keeps on increasing.
How do Progressive Slots work?
As players spin on a progressive slot game, a percentage of each bet goes towards the jackpot.
Given the large number of casinos that offer the same progressive jackpot game, the jackpot amount can increase quite fast, especially if you're playing one of the most popular progressive slots (such as the ones listed above).
However, it takes a lot of luck to win the jackpot in all of these slots, as the odds are very low, and similar to those that come with winning a lottery.
When the jackpot is won, the amount resets to the seed value, which is a predetermined amount at which the jackpot restarts to grow.
Are they safe?
The Return to Player percentage of progressive jackpot slots tends to be lower than that of your typical online pokie.
A percentage of this RTP is always made up of the jackpot (i.e. it takes into account jackpot wins in the long term), however, given the low odds of actually winning the jackpot, the actual RTP for non-jackpot wins is typically lower.
Tips for Playing Jackpot Slots
As jackpot slots are slightly different from your everyday video pokie, we have a few tips for our readers on how to find the best jackpot slots in New Zealand.
Look for Jackpot Slots with Good Bonus Features
Given the very low odds on jackpot wins, we believe that the best progressive slots are those that can offer steady and decent-sized payouts even if the jackpot isn't won.
We, therefore, favour those progressive pokies that come with free spins or other bonus rounds that are not too difficult to trigger, or those that can reward you with additional prizes as you play.
It is for this reason, for example, that we prefer Playtech's Age of Gods and NetEnt's Mega Fortune over other jackpot slots like Cash Splash and Treasure Nile.
Check the bet amounts for the jackpot
Most progressive slots require you to stake the maximum bet, however, others will offer lower maximum wagers than others. If you're on a budget, it's better to stick with jackpot slots with lower bets in the long run.
For example, you can win the Mega Moolah jackpot even with the minimum bet, though the odds of this happening are lower.
Where to play the best jackpot slots in New Zealand
And now, it's time to discover some of these progressive games yourself.
We advise playing them at a reputable online casino that guarantees secure payouts and a good level of customer service – in case you win that jackpot, you'd want to know that your money is in good hands and that you can safely withdraw it!
Check out our full list of casinos in New Zealand here, or pick a casino featured on this page to start playing some of these jackpot pokies with a welcome bonus!