Dream Catcher was the first game show released by Evolution Gaming
Take advantage of the return to player (RTP) rate of up to 96.58%
Win up to $500,000 your bet thanks to multiplier wins!
Dream Catcher was the first game show released by Evolution Gaming. It launched in 2017 and still holds mass appeal thanks to its simple yet exciting gameplay.
Join us as we review some of the critical elements of this game. We'll study the main features, betting options and payouts, and also look at where you can play Dream Catcher in New Zealand online casinos.
Dream Catcher overview
| | |
| --- | --- |
| Game Name | Dream Catcher |
| Provider | Evolution Gaming |
| RTP | 90.57% – 96.58% |
| Features | 52-segment wheel, Live host, multipliers |
| Min Bet | $0.10 |
| Max Bet | table limits vary depending on the casino |
| Max Win | $500,000 |
Where to play Dream Catcher from New Zealand?
Several operators from New Zealand host this game show, thanks to their partnership with Evolution. You can read our detailed online casino reviews to help you find the ideal candidate, or choose an operator from the below:
What is Dream Catcher?
Dream Catcher is a money-wheel game show featuring a live presenter that continually interacts with the players. It was Evolution Gaming's first attempt at creating a game show, and it's the base for several of their other games. It's a game that is played out in real-time with a live host, who will guide you and entertain you as you go along.
The Dream Catcher wheel consists of 52 segments, each one displaying a number and multiplier. The aim is to place a bet on a number and hope that the wheel stops on that number when the host spins it.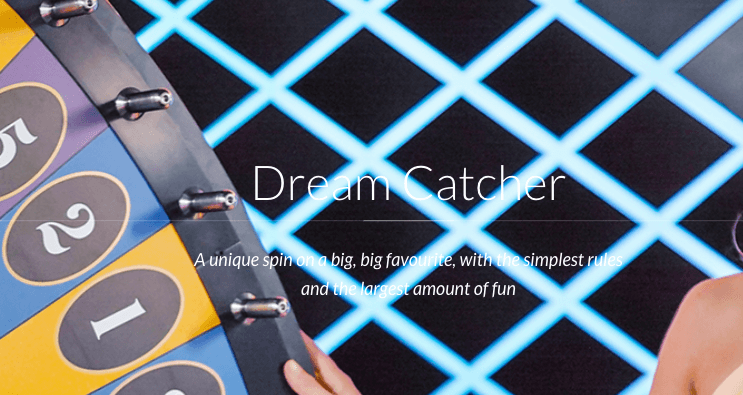 How to play Dream Catcher?
This game is considerably more straightforward to play than you might expect. The game screen hosts six different numbers that you can bet on. The options are 1, 2, 5, 10, 20, and 40.
Dream Catcher allows you to place chips of various values on any of the numbers. The chip sizes are $0.10, $0.50, $1, $5, $25, $100, and $500. You first need to drag the amount that you want to wager onto the appropriate number. You can bet on multiple numbers simultaneously, with various chips.
You can also double up on your stake by using the 2x chip. Next, the presenter will spin the wheel. If it stops on a multiplier, that's an instant respin with all bets staying in play. If the wheel lands on a number, the game pays out to all players who wagered on that number.
Step by Step Guide on how to play Dream Catcher:
Decide how much you want to wager, and on which numbers.
Place bets on the numbers you want by clicking the right value chip and then the number bill.
Select 2x for any numbers you wish to wager double on.
Wait for the presenter to spin, and watch the results.
Repeat!
Dream Catcher payouts
Each of the numbers in Dream Catcher has a different return, depending on the frequency of its occurrence. Every payout is equal to the corresponding number. For example, the 40 pays out at 40:1, the 20 is 20:1, and the one has a payout of 1:1.
The simplicity of this setup makes it easy to calculate how much you can win on any segment. The exception to the standard wins is when you land a multiplier.
The game features a 7x and 2x multiplier. When you land either of these, the current wager stays in place, but the payout from the following spin is multiplied.
It's possible to stack multipliers up to 49x or more, though it's a rare occurrence to get two in a row.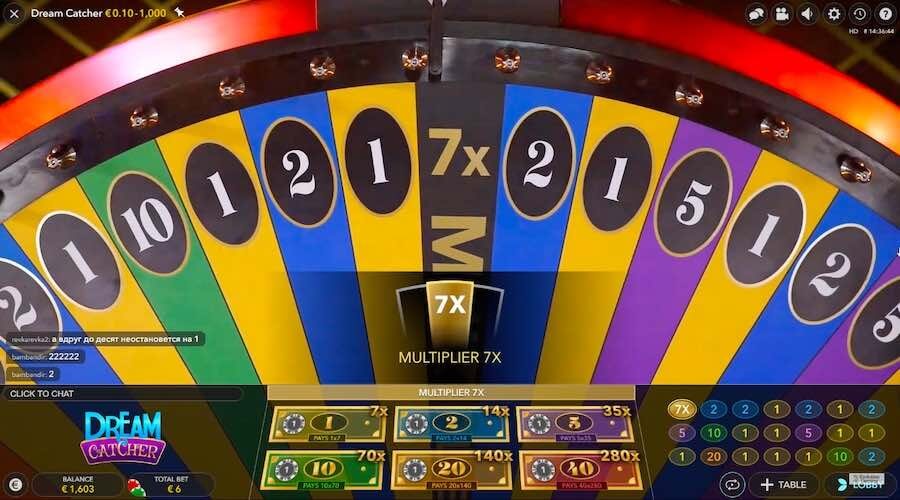 Dream Catcher strategy
Dream Catcher is very much a game of chance. As such, you can't develop a foolproof winning strategy. However, there are a few things that you can try to improve your chances. Let's take a closer look at some of the main techniques that people use.
Betting on the spread
If you have a history of betting on sports, you'll know what betting on the spread is. However, in the case of this game, it means something else entirely. When you bet on the Dream Catcher spread, you place a wager on all the numbers except one and two.
Since numbers five and above offer the best payouts, wagering on all of them gives you a good chance of a big win. It's especially true when you happen to get a multiplier.
Considering that a $1 bet on a five equals a payout of $5, a single multiplier can net you between $10 and $35. Additionally, that's the lowest number you're betting on. A $1 bet on 40 can bag you between $80 and $280 with one multiplier.
Avoiding the 1
Many players in Dream Catcher bet on the various numbers in turn but avoid the one. Since there are 23 ones on the wheel, you might think that it's the best number. However, since one only has a 1x payout, it doesn't give you a profit.
By adopting strategies that focus on the higher-paying numbers, you have better chances of winning over time. If you keep your bets small, you can ride the wave till the wheel turns in your favour. Using large wagers will lose you too much money before you get to the good part.
Graphics & sounds
The constant rambling of the presenters dominates the audio landscape of this game. They frequently interact with the players who are commenting on the live chat and often tell stories. If you like that kind of interactive banter, you'll probably love this. There's also a bit of light music in the background to help maintain an upbeat vibe.
The studio where the game's filmed has a brightly coloured grid background and plenty of lights. It's artfully designed to make the wheel the centre of attention. There's very little graphics involved, but the video is of excellent quality.
Other game shows to play if you like Dream Catcher
If you enjoy Dream Catcher, there are many similar games from Evolution Gaming for you to try.
As we mentioned earlier, Dream Catcher was only the first game show that Evolution ever introduced. If you love this show, you may also enjoy Monopoly Live.
Monopoly Live is based on the same wheel concept but incorporates aspects of the famous Hasbro game. For instance, you can get chance cards which award multipliers or random prizes.
Furthermore, the show features a bonus game where Mr Monopoly goes around the board and picks up prizes. Mr Monopoly keeps you company in the studio as the wheel spins and waits for his features. When you look out the studio window, an animated city catches your eye.
If you're looking for some insane fun, you can also try Crazy Time. It's another wheel of fortune-style game based on the mechanics of Dream Catcher. However, unlike the original game, this wheel features a top slot. Additionally, you might get to play one of four bonus games.
The list doesn't end there, and you can play Lightning Roulette, Mega Ball, and Deal or No Deal among other live games.
Dream Catcher review – Conclusion
If you like the money wheel/wheel of fortune type setup, then Dream Catcher won't fail to appeal to you. This Live Casino game is also easy to play, and has a simple select, wager and win structure. The game is also available in New Zealand's best casinos.
The game has no real theme beyond the wheel itself, and it has a basic setup. Anyone who likes game shows will probably enjoy the presenters. While you're playing, you can talk to the host using live chat.
In conclusion, Dream Catcher is a perfect fit for anyone who loves games of chance. You can build a basic strategy, but there's no foolproof route to winning. Take the plunge, make your bet, and hope to win.
Frequently asked questions
Dream Catcher is powered by Evolution Gaming.
The RTP varies from 90.57% up to 96.58%
Monopoly Live and Crazy Time are other two popular casino game shows that can be played