Signing up with a new casino is exciting, but what is more thrilling is claiming a generous welcome bonus.
These days, almost all NZ online casinos offer some kind of new player promotion in the shape of a welcome package or a welcome bonus.
The offers circling the web vary from online casino no deposit welcome bonuses, deposit match bonuses, free spins and even loyalty points.
A welcome bonus provides new players with some precious extra cash or spins, enabling them to try out the platform and some of the games for free. They also act as a drawcard for new casinos or new games.
In this article, we're going to look at the type of welcome bonuses you can find from New Zealand, and we'll share tips on what conditions to look out for.
Are Welcome Bonuses Legal in New Zealand?
In New Zealand, online casinos are not yet regulated, however, this does not mean it is illegal to play online or claim a casino bonus.
We still suggest being cautious! There are hundreds of online casinos around and not all of them are legit or safe.
Thus, we recommend, choosing a casino that is licensed by a reputable jurisdiction like the UK and Malta.
Are they safe?
A casino licensed from one of the above regulators protects players by ensuring adequate protection is provided, games are fair, and the casino's terms and conditions are transparent, with easy access.
Why are casinos offering welcome bonuses?
Welcome bonuses are a way by which a casino attracts new players to its platform. The more generous a bonus is the more likely it is for players to sign up.
This is especially true if a no deposit bonus is being offered!
What Exactly is a Welcome Bonus?
A welcome bonus is a method used by a casino to entice you to join it and become a member. It's a form of marketing, and the casinos see it as a cost of advertising, which hopefully they will recover from new members over time.
These consist of freebies in the shape of casino money or free spins, often given to players against a minimum deposit. As it is, these bonuses rarely come without obligation, as we will see further on.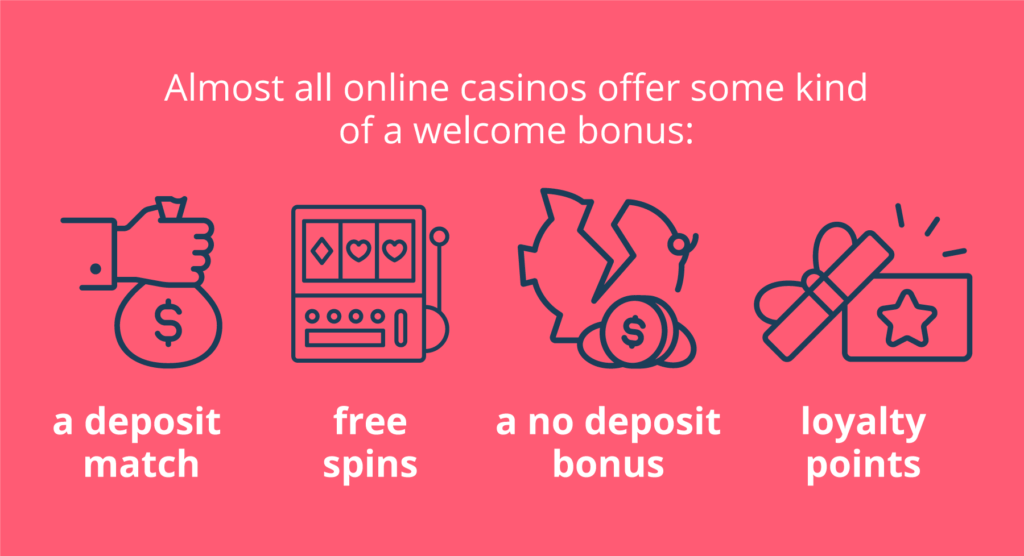 Why take a welcome bonus?
Apart from its obvious marketing value for the casino, the welcome bonus gives you an opportunity to try out the casino at considerably less cost than you would incur during normal play.
Provided the play-through requirements are not excessive, you stand a good chance of winning from the welcome bonus.
Types of Casino Welcome Bonuses in New Zealand
The casino welcome bonus comes in two main forms, a percentage of a deposit match bonus or an online casino no deposit bonus.
These are sometimes padded with free spins to make them more attractive. We suggest doing some shopping around to find the best welcome bonus for you!
New Player Welcome Bonus
A new player welcome bonus is designed to attract you to the casino. The most common type of bonus is a deposit match.
For example, a casino may offer a bonus match of 100% of your first deposit, up to a nominal value, say $100.
In other words, your first deposit of $100 effectively becomes $200. There are usually conditions to this bonus, and normally the wager has to be played through a certain number of times before it's available for withdrawal.
Slots Welcome Bonus
Certain pokies, particularly new releases, may carry their own custom-made bonuses.
The purpose of these bonuses is to encourage you to try new slots and also for the casino and developers to gauge the game's popularity. These bonuses often come in the form of free spins. 
A welcome bonus may promise 500 free spins, for example. It is important to note that in most cases, these are not awarded at once.
After your first deposit, you will get 50 immediately and then 50 per day for the next nine days. This is usually set out in the terms and conditions and you should read them before opting in and having false expectations.  
Reload Welcome Bonus
Reload bonuses are often awarded after your initial welcome bonus. These could appear at any time during normal play or as a specific promotion.
To qualify for a reload bonus, you only need to make a deposit. Some casinos offer these weekly or monthly and some will provide them randomly. They still come with the same wagering requirements and other terms and conditions as the welcome bonus. 
Deposit Welcome Bonus
On a deposit welcome bonus, the casino will credit you with a percentage of your first deposit, up to a fixed amount. Some casinos extend this to the 2nd and even 3rd deposits. Some might even go further to the 4th and 5th deposits.
No Deposit Welcome Bonus
No deposit bonuses are usually a fixed amount often consisting of free spins, credited to your account on signing up with the casino. These may be in conjunction with a deposit bonus.
In both cases, a play-through requirement is usually in place. Before accepting any bonus, always check the conditions attached to it.
Welcome Bonus Codes
Sometimes a code needs to be entered during the deposit process, in order to access a welcome bonus. This can either be a general code or one assigned exclusively to you.
How to Cash Out Your Welcome Bonus
Most casino welcome bonuses are cashable unless they carry wagering requirements.
Only no wagering welcome bonuses can be cashed right away, however, these are relatively rare.
Cashable vs Non-Cashable Casino Offers
Cashable casino bonuses can consist of either a welcome bonus with wagering requirements or no wagering welcome bonuses.
The first is only withdrawable once the playthrough requirements have been met, while with the latter, any wins go directly to your cash balance for you to cash out at your convenience.
On the other hand, non-cashable bonuses, also known as "sticky bonuses", can't be cashed out and remain with the casino. While that sounds like a bad thing, it can actually be used to bolster your winnings, as you can still use it to play for free.
Maximum Win Limit
A maximum win limit, or as it is often referred to, 'caps on winnings', is usually imposed on free spin offers for online pokies.
The value can vary from casino to casino, thus we advise checking the terms and conditions carefully.
In rare cases, table games may also be subject to a win limit.
Cash-Out Limits
Casinos often impose cash-out limits, and these may be daily, weekly or monthly transactions with a maximum limit.
There are several reasons for this, firstly to protect the casino's cash flow.
The second reason could be to protect you from drawing a large sum of money and then blowing it, although we feel that what you do with your winnings is your own affair!
A possible third reason could be to protect against fraud. Should your account be hacked, though that should be impossible, the perpetrator will be limited to how much they can take.
Always check the casino's maximum withdrawal policy before signing up.
Bonus Percentages And Payouts
Bonus percentages vary between casinos. The most common is 100%, although some casinos go the extra mile and offer a 200% deposit match.
Check the conditions of the bonus before committing to it, as some bonuses can't be withdrawn or have restrictions on how many payouts you can land.
Solutions for Common Issues
Here are some solutions to common problems encountered by new players while claiming an online casino welcome bonus.
I don't want a welcome bonus anymore
You can bypass the welcoming bonus by not inserting the bonus code or leaving the opt-in box unchecked. You will probably be prompted to confirm that you wish to skip the bonus, in which case you can confirm, and then play as normal.
I can't see the progress of my welcome bonus
Your account will have a tab tilted "offers" or similar. Click on this to view any bonuses or promotions that are active. You should be able to see the remaining time until expiry as well as your stage in the wagering process.
My offer page is not showing me a bonus
Possibly you are not eligible for this bonus in your area. It might also be that your time limit to claim the bonus has expired.
How much time do I have to claim and use my bonus?
It depends on the casino! Usually, the bonus must be claimed and used within 30 days, but some casinos require that it be used during a much shorter time frame, even as low as 24 hours.
Tips for Using a Welcome Bonus in New Zealand
Here are some basic tips to help you make the best of your casino welcome bonus!
1. Always read terms and conditions
The dreaded small print! It is always wise to go through all the terms and conditions attached to any bonuses, promotions, and anything else to do with the casino. 
2. Check the wagering requirements before you grab a bonus
There are usually wagering requirements attached to any bonus offer unless otherwise stated. Make yourself familiar with these before committing yourself. If the play-through conditions for a bonus are excessive, it may cost you more than the bonus is actually worth.
It would be best if you avoid any bonus with more than a 30X playthrough requirement.
3. Make sure your payment methods are accepted
When registering with a casino, check which payment methods are accepted. If you don't already use any of them, you may need to open an account with a new provider.
Most casinos accept a variety of payment methods, but beware, as many will only allow you to withdraw back to the source of your deposit. Try to use a method that qualifies for both deposits and withdrawals.
4. Look out for location restrictions
Make sure that the bonuses are available in the area that you are playing from. Some bonuses may be valid for certain regions only. Some casinos that are restricted to certain areas will use geotag software to identify your location, and if not eligible, you will be denied access. 
5. Check on the withdrawal times
Most casinos will process withdrawals immediately, however, some may impose a delay. Even if your withdrawal is immediate, there may be a delay imposed by the financial institution you're withdrawing to.
Different withdrawal methods may also have different availability times, so check on these beforehand.
6. Check Your Welcome Bonus Free Spins
Some bonuses require that the play-through cycle must be completed within a certain time. Failure to do this may result in the bonus, and even your deposit, being forfeited.
There are occasions where the bonus may be split over a number of days or sessions, which must all be completed.