Evolution Gaming's highest returning game yet
Reach crazy heights and win 50,000x your bet
No tricks or complicated betting strategies
Earth-shatteringly simple and great for all levels
Cash or Crash is Evolution Gaming's newest live casino game show. It's a wonderfully straightforward game, and with the Cash or Crash Live RTP at 99.59%, a big win is within reach. While this also means that the Cash or Crash volatility is high, you'll want to keep climbing that ladder to reach the jackpot.
| Pros | Cons |
| --- | --- |
| Low minimum bet | No bonus rounds |
| High RTP | High volatility |
| Simple gameplay | |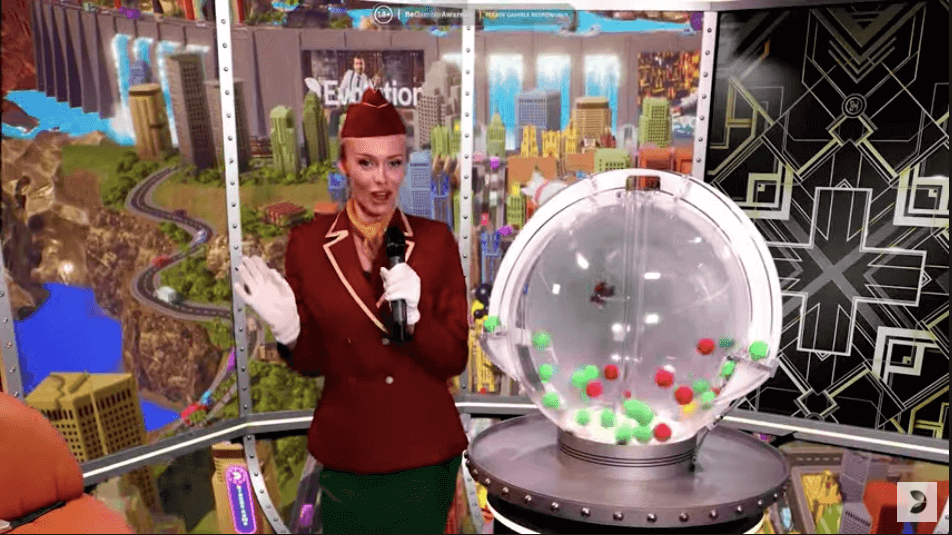 | | |
| --- | --- |
| Game Name: | Cash or Crash Live |
| Provider: | Evolution Gaming |
| Volatility: | High |
| RTP: | 99.59% |
| Features: | Golden Ball |
| Paylines: | N/A |
| Min Bet: | 0.20 |
| Max Bet: | 1,000 |
| Top Win: | 50,000x |
Where You Can Play Cash or Crash Live
We don't doubt that Cash or Crash Live will eventually infiltrate all online casinos that feature Evolution Gaming's mix of live games. At the time of this review, we found it available at the following casinos:
Cash or Crash Live Mechanics
The game utilises a lottery-style tumbler in which there are 28 balls. Of the balls, 19 are green, eight are red, and one is gold. The ball machine rests on a pillar that displays a 20-rung ladder which acts as the paytable. You can see just how much you can win on each rung based on your wagers.
Once players have placed their bets, the dealer draws the first ball. If the ball is green, you must decide whether to continue playing, cash out in full, or cash out half your money and leave the balance in play.
A percentage gauge displays your chances of landing a green or a red ball at each ball draw. This feature is beneficial in guiding you towards a decision.
Each green ball moves you one rung up the ladder and increases your potential winnings. The amount you can win on each rung also depends on the other players' actions. The amounts update on the ladder after each draw.
If the ball is red, you crash to the ground and lose all your money. If the dealer draws the gold ball, you receive a protective shield against the next red ball and automatically stay in the game.
Your shield breaks at the next red ball and provides no further protection, but the multiplier applied to your stake increases. If you manage to stay in the game until the final ball and after using your protective shield, you win 50,000x your stake.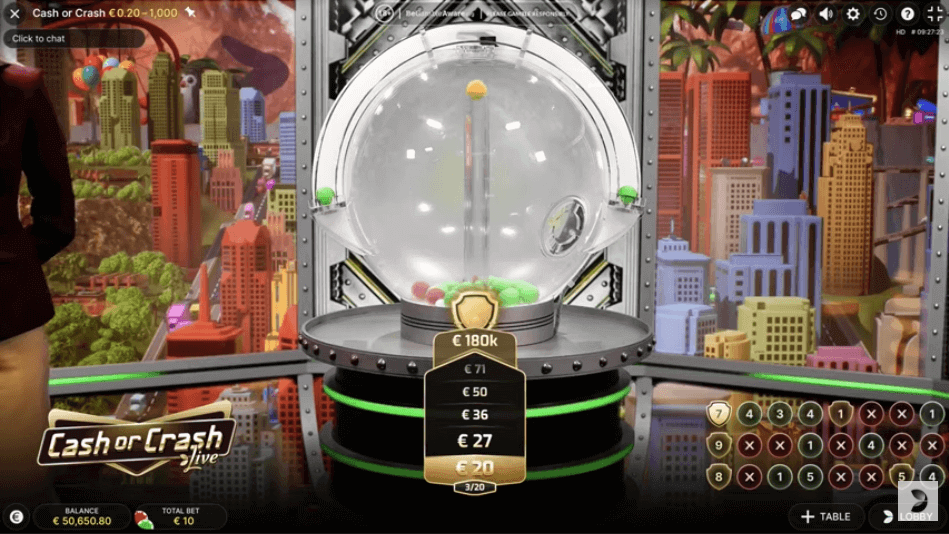 Simplistic but captivating gameplay
At first glance, Cash or Crash seems too simple to be much fun. But it's this simplicity that adds to its captivating effect and makes you hold your breath for each ball spin.
We appreciate that the game caters to beginners, high rollers and everyone in between. Your choice isn't purely all or nothing. By taking the middle option and keeping half your money in the game, you reduce your risk while still enjoying the gameplay.
The percentage gauge is a fantastic feature. Depending on how big a chance-taker you want to be, you can choose to use it or throw caution to the wind,
Cash or Crash Live Symbols & Payouts
There are no symbols in Cash or Crash, but let's take a look at some of the game's features.
The tumbler
The lottery-style tumbler holds the game balls. At the start of each round, the tumbler mixes the balls up, releasing one that dictates the round's play.
Paytable
| Paytable Level | Standard Payout | Payout with shield protection |
| --- | --- | --- |
| 1 | 1.2x | 1.2x |
| 2 | 1.6x | 1.7x |
| 3 | 2x | 2.2x |
| 4 | 2.7x | 3.1x |
| 5 | 3.5x | 4x |
| 6 | 5x | 5.6x |
| 7 | 7.1x | 8x |
| 8 | 10x | 10.5x |
| 9 | 15x | 16x |
| 10 | 21.5x | 24x |
| 11 | 33x | 36x |
| 12 | 54x | 62x |
| 13 | 95x | 105x |
| 14 | 160x | 175x |
| 15 | 310x | 360x |
| 16 | 550x | 760x |
| 17 | 1,200x | 1,500x |
| 18 | 2,900x | 4,000x |
| 19 | 6,800x | 11,000x |
| 20 | 18,000x | 50,000x |
Min/max bet, autoplay option
Cash or Crash Live has a broad betting range. You can wager the minimum of NZ$0.10, the maximum of NZ$1,000 and anything in between.
We were unable to find anything definitive about an autoplay option. However, Cash or Crash is unlikely to have this feature because you need to decide on your play after each green ball.
RTP, volatility, hit frequency
Cash or Crash Live has a high RTP of 99.59%. This means that over a given number of games, you'll receive pretty much all your money back. Granted, it's worked out over thousands of plays, but the higher the RTP, the better value the game is.
Thanks to the high RTP, this game show also has high volatility. While you can win regular small amounts with cautious betting and by cashing out 50% on green balls, a big win is hard to come by.
Hit frequency is more relevant to slots and video poker than live games, and we couldn't find any information on this for Cash or Crash Live.
Jackpot and/or maximum win
Although the Cash or Crash Live game show doesn't have a jackpot, you can still win a sizable amount when the green balls keep coming. The highest possible win is 50,000x your stake, which isn't small change even with the lowest bet.
Reaching the maximum win isn't easy, though, and depends on several factors. Firstly, try not to cash out half your winnings during the game. The more you have in play, the more you can ultimately win.
You also need to avoid those red balls that end the game there and then. You rely heavily on luck in this game, so avoiding them isn't a given. But you have some reprieve when the gold ball appears, knowing that the next red doesn't pose a problem. Consecutive green balls after that shoot you further up the ladder and ever closer to the maximum win.
Cash or Crash has a high RTP but is also highly volatile
The high RTP of 99.59% means that Cash or Crash doesn't keep much back for itself. This is great news for lovers of the game who should see a decent return on their wagers in the long run.
However, it also has high volatility, so don't expect to hit a big win too quickly. The game keeps you involved throughout, and the idea of hitting the maximum is always within reach.
We appreciate that the game allows you to cash out 50% of your winnings after any green ball. If you're cautious about your cash, then this is a great feature to take advantage of to avoid an impending crash.
Special Features
As we mentioned earlier in this Cash or Crash Live review, it's a very simple game with straightforward rules. We didn't find any bonus games or other special features when testing out Cash or Crash Live.
Nothing more than the base game
That's it, in a nutshell. Cash or Crash is purely a base game with no frills. While you may think this tedious, it's refreshing to have a game without complicated special features and bonus segments.
Your success in Cash or Crash Live relies heavily on your choice or how to play your winnings after each green ball. The boosts are built into the protective function of the gold ball. With a bit of luck on your side, you'll see your winnings increase after every round.
Cash or Crash Live Graphics & Sound
Evolution Gaming has gone to town with the colourful studio set for Cash or Cash Live. The game takes place inside a virtual blimp. When the first green ball is drawn, this zeppelin starts its takeoff and rises higher and higher towards the cash as play continues. The appearance of a red ball when no shield is in play sends the blimp crashing to the ground.
The ball tumbler is central on your screen, and the game ladder updates in real-time so you can constantly see how far from the top you are.
Your aptly uniformed flight attendant dealer provides a running commentary that adds to your enjoyment of the game, while generic game show-style music plays in the background. Sound effects accompany the ball tumble, reaching a crescendo for each ball drawn. These sound effects complement the excellent animation of the game.
The animations are as good as we've come to expect from Evolution Gaming. As the blimp rises, you can almost feel yourself hovering over the metropolis below. On each round, we felt our stomachs twist in anticipation of a red ball, just waiting to plummet to the ground.
| | |
| --- | --- |
| Studio set | Virtual air balloon that rises over a cityscape |
| Optimized for Mobile | 👍 |
| Music | Understated background music constantly plays |
| Special features | There's a crescendo-style sound effect for green balls, while the sound effect for red balls gives an air of disappointment. |
All-round quality graphics and sound
Evolution Gaming has covered every aspect of the graphics and sound for this game show. We loved the novelty of experiencing the game in a virtual blimp. With the simplicity of this game show, the animations and sound play a pivotal role and Evolution Gaming has got it just right.
The background music provides excitement and build-up without being overpowering. Additionally, the sound effects contribute to the overall gameplay. They add to those celebratory green-ball moments but also a sigh of disappointment when you hit a red.
The flight attendants are knowledgeable and encouraging. As we expect, they keep you updated with what's happening each round and are always happy to answer your questions. The game moves quickly, but our dealer provided the right cues at the right times, so we didn't miss a step.
Verdict
Cash or Crash Live has the potential to please even the most hardened bettor. At first glance, it looks very much like a standard lottery setup. However, the set design and animations quickly change this perspective and increase your enjoyment.
The simplicity of the gameplay is one of its best features. It requires very little thinking, but you must make quick decisions between rounds so you can't afford to sleep on the job. The lack of bonus rounds may put some players off, but after a few rounds of Cash or Crash Live, you won't even realize that they're missing.
We loved our Cash or Crash experience. It's a strong contender in a competitive live game category, and we see it quickly climbing up the popularity ladder.
If you enjoyed playing Cash or Crash Live, you should also give these games a try.
Monopoly Live
Rock Paper Scissors
Mega Wheel
Deal or No Deal
Frequently asked questions
As this is still a relatively new game from Evolution Gaming, it's not yet available at many casinos featuring live games from this provider. LeoVegas, 10Bet and Royal Panda are some casinos that include it in their live games lobby.
The most that you can win is 50,000x your bet. Even if you bet the minimum amount of 0.10 NZD, you can still net 5,000 NZD.
Yes, absolutely. After each green ball, you can choose to cash out fully, cash-out 50% or continue with the next round.