Blackjack is one of the most popular table games in New Zealand. We're guessing you, like many other Kiwi casino players, would like to learn a little bit about this thrilling game and how you could potentially win a sweet payout from playing a game of Blackjack.
Read on to learn about the strategies you can use to ace any game of Blackjack, in particular Classic Blackjack.
What will you learn from our Blackjack basic strategy guide?
Whether you've played Blackjack for years and simply want to improve your strategy, or you're completely new to Blackjack, you'll learn how to navigate the waters of this fun and, sometimes, complex table game.
4 important tips before you start
Get to know all the Blackjack rules, odds, and payouts
Choose a Blackjack variant smartly – if you're unsure, have a look at our Blackjack guide to view som examples.
Plan your budget. You can never be too sure about winning in a game of Blackjack, as it is mostly based on chance and good luck, so do have a budget plan prepared to avoid going over a certain limit while playing.
Don't forget about the time you're willing to spend on a Blackjack game (these table games can be addictive, even more so the idea of winning, so always make sure you're on top of things in terms of the amount of time you spend playing).
Basic Blackjack Strategy
The Basic Blackjack Strategy is the least complex strategy in a game of Blackjack where players normally start with two cards. It simply demonstrates the most basic approaches for mastering the popular table game.
In essence, the goal in a Blackjack game is the reach the value "21" with your cards without going over (bust). The dealer wins if you go bust.
The values of the Blackjack cards are as follows:
Face cards – K, J, Q, and 10 have a value of 10.
Aces – worth either 1 or 11.
All other cards – 2, 3, 4, 5, 6, 7, 8, and 9 are valued at their respective numbers.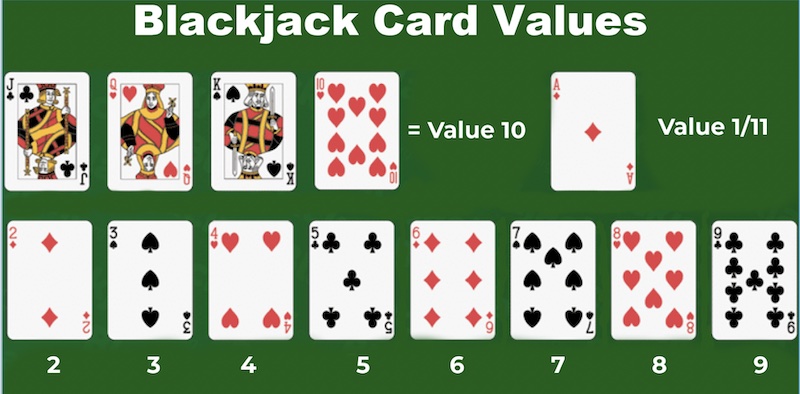 While there are a number of different Blackjack variants out there, we'll be focusing mostly on the classic form of Blackjack on this page.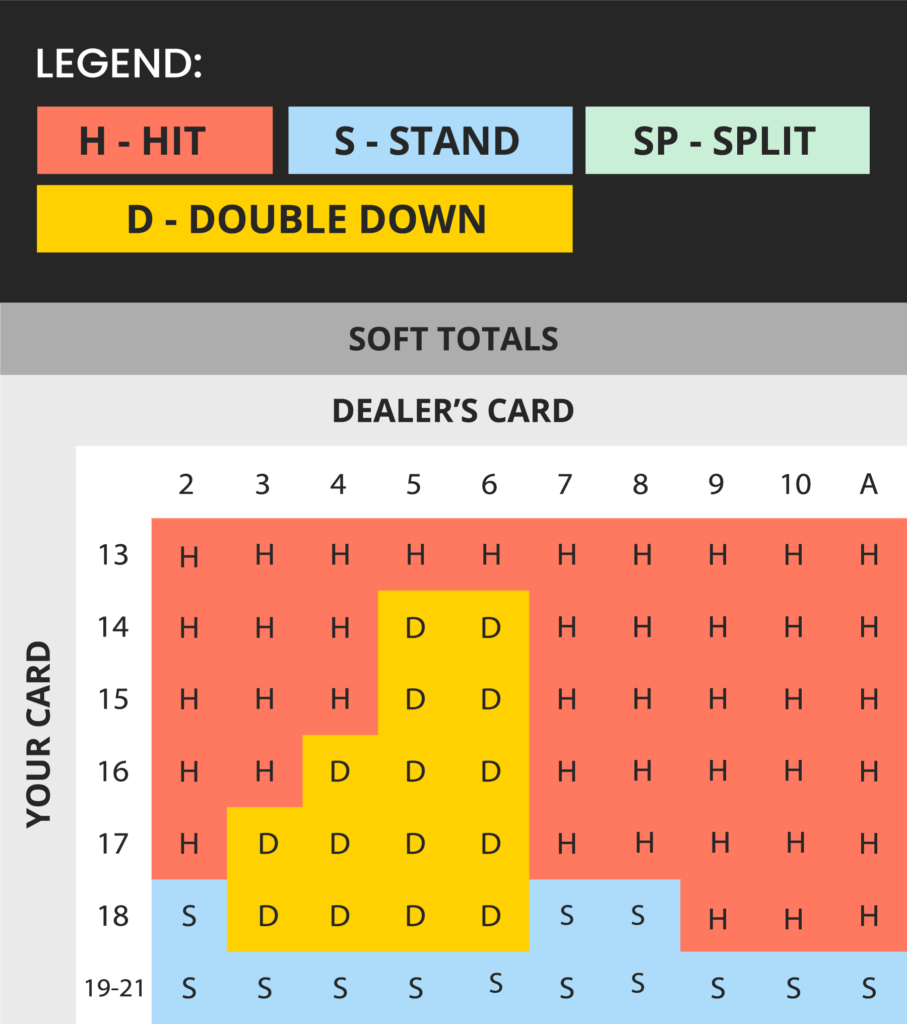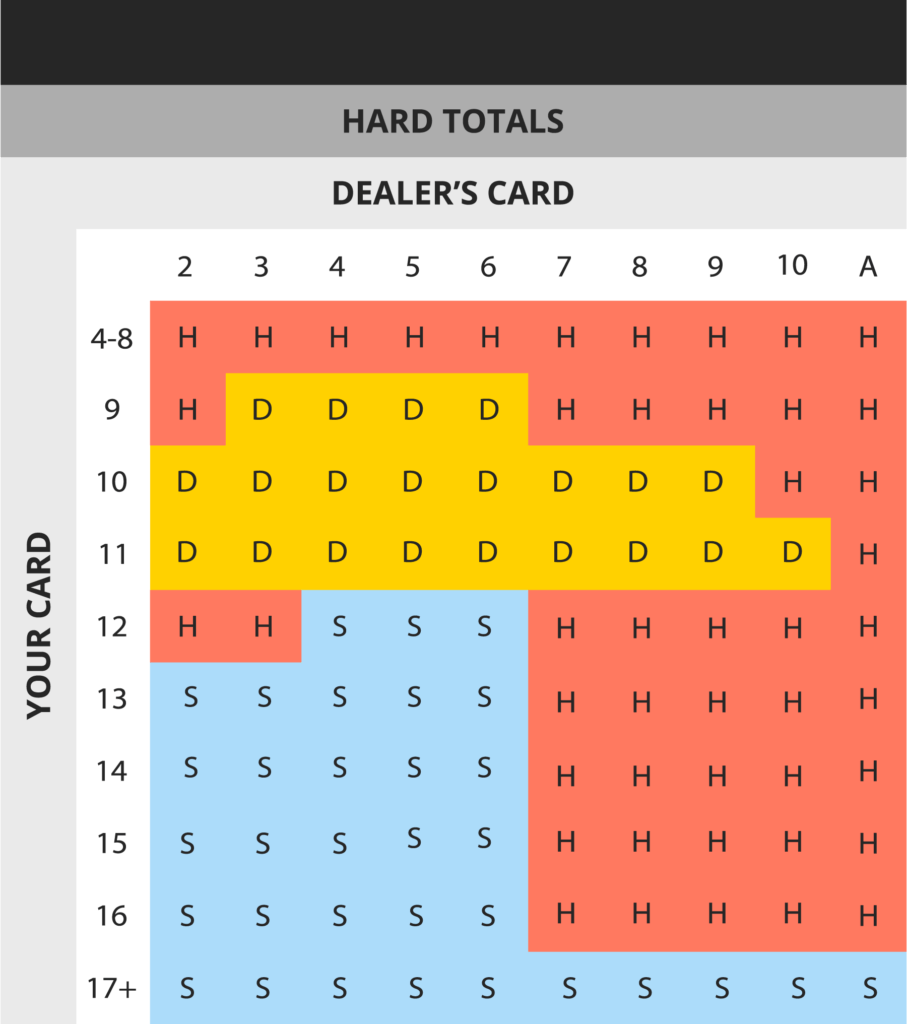 Hit or Stand?
If you are new to Blackjack, the term "Hit" will make absolutely no sense to you. Simply put, it means picking up another card.
If — by picking up another card — a player exceeds the value 21, that player automatically loses.
"Stand", on the other hand, is when a player decides against picking up yet another card as it could potentially lead to going bust.
Making a decision to "Hit" or "Stand" is often a slippery slope. However, a trick is to "Hit" if your hand equals a value of 8.
The table example below illustrates when to "Hit" and when to "Stand".
The table illustration works best when the following can be applied to a Blackjack game:
Up to 8 decks of cards
An insurance is offered when the dealer's hand shows Ace
A "Double Down" on any 2 cards (the meaning of Double Down will be covered a little later)
Only one "Split" per hand
Payout is 3:2 and the insurance pay 2:1
No Double Down after Split
Double Down
A Double Down is when a player doubles their bet and usually happens after a player has been dealt their two cards at the beginning of a Blackjack game.
Doubling Down leads to a player receiving an additional card in a round which will determine the winner.
Using the Double Down alternative is only advised when your hand has a higher value than the dealer.
Here are a few suggestions for when to use the Double Down alternative while playing Blackjack:
Split Pairs
In Blackjack "Split Pairs" refers to a player's first two cards having the same value and the player separating the two cards into individual hands while simultaneously using the Double Down alternative.
A good idea is to Split Pairs when the cards you've been dealt happen to be two Aces. In this case, your chances of winning will be doubled.
If you choose not to "Split Pairs", the cards will be given their default value (1 or 11).
Here's another table illustrating when to use the "Split Pairs" option at a Blackjack table.
When to Surrender
In Blackjack, you "Surrender" by giving up your hand so you get to keep half of your original bet. This is usually the safest option if the dealer happens to have a hand with a higher value than yours.
A perfect example of this would be if the dealer's hand is an Ace you don't. In this case, your hand would typically have a value of between 12 and 17
Advanced Blackjack Strategy
An Advanced Blackjack Strategy is often used by more experienced Blackjack players rather than beginners.
An Advanced Blackjack Strategy refers to the intricacies of Blackjack and deals with themes like card counting, shuffle strategies, so on and so forth.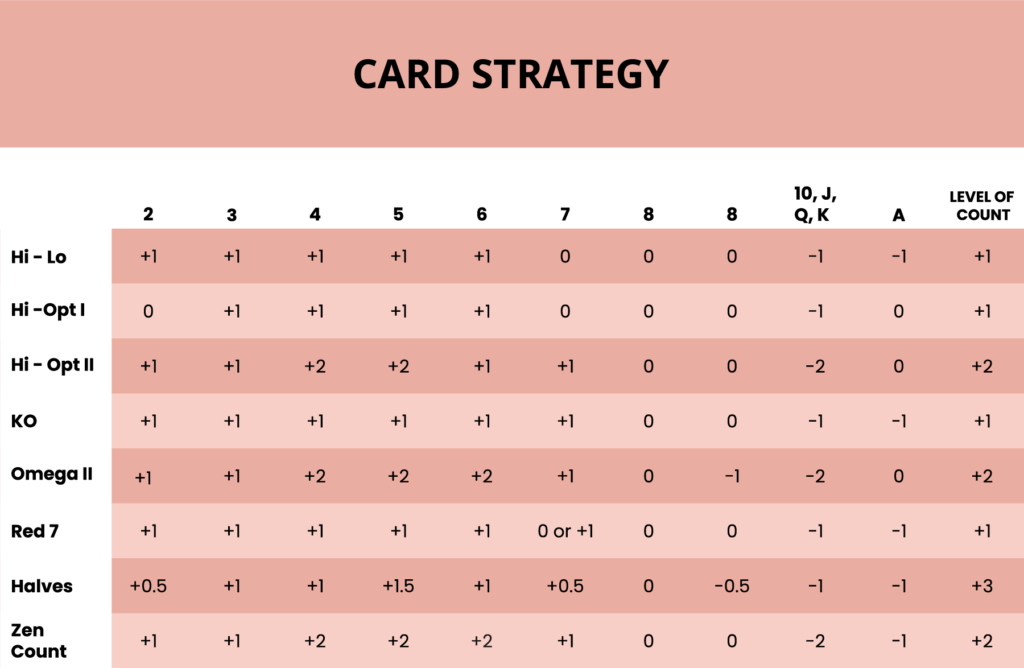 What exactly is Blackjack card counting and does it actually work?
Blackjack card counting gives players a bit of an advantage as it involves keeping track of all the cards that are dealt during the game. This allows a player to make a guess about what bets to make and when to make them.
Card counting could potentially help you guess what card will come up next, thereby providing you with a better chance to beat the dealer.
How to count cards?
There are various ways to count cards when playing Blackjack, and here are a few examples:
Zen card counting system – Players add 1 point for all 2s, 3s, and 7s, while taking away 2 points for all 10s, and 1 point for all Ace cards – ignoring any other card.
Hi-Lo card counting system – Players add points to cards between 2 and 6, and substract points from cards 7 to 9 and any other card.
Knockout (KO) card counting system – Players add a point to every card with the values 2, 3, 4, 5, 6, and 7, and are left with a deck of 4 cards after counting.
Which Blackjack Strategy should you choose?
Which Blackjack Strategy you choose depends on what you feel most comfortable with as well as your bankroll (budget plan).
The most commonly played form of Blackjack and the one we advise any beginning Kiwi Blackjack player to try is Classic Blackjack.
The Best Blackjack Strategies to try when you're new to Casino
While there are a number of Blackjack variants in New Zealand, some variants you may be interested in trying when you're new to the game that are quite popular are the following:

American Blackjack – the dealer is given more than one upturned card hole card (face down card) that they will be allowed to steal a glance at if the upturned card is an Ace.
European Blackjack – unlike American Blackjack, the dealer isn't allowed to look at their second card until the player has completed their in this Blackjack variant.
Multihand Blackjack – players will be able to play 5 different hands during a game of Multihand Blackjack
Buster Blackjack – the player wins a bit more if the dealer goes bust because of an additional side bet.
Blackjack Switch – players are dealt 2 hands of which they are required to place identical bets on. During such a game you are able to switch between muThe game provider PlayTech offers Blackjack Switch with a RTP of 99.87 %
In order to find the best Blackjack variant for you, the best tip is to be patient while looking. There are plenty of Blackjack variants out there, and you can either try them all or try the ones that you feel most comfortable with.
Blackjack strategies to play if you're a pro
If you're confident in your Blackjack skills, a good strategy to play with would be the advanced blackjack strategy.
You could try your hand at Blackjack Switch where you can switch your cards if you should realize that your hands aren't too great, as this variant would further increase your chances of winning the game.
Blackjack strategies that got the most wins
The following wins are the biggest ones to have been recorded in Blackjack history to date, and they were won using the blackjack strategies explained on this page. Below is a short explanation of what was won and what strategies were used.
Glasgow, Scotland, 2017 – A player won a whopping £74 000 playing the Ace King Suited Blackjack game where a player wins if they are dealt a Blackjack with a Suited King.
Maryland, USA, 2018 – A player who participated in the $1 million Blackjack Tournament walked away with an amazing $500,000.
Las Vegas, Atlantic City 1970s – 1990s – To date, a team of 6 students from MIT are the biggest winners in Blackjack to date, winning up to an impressive $100 million in the space of two decades. It's been said that they used card counting to their advantage. A movie starring Kevin Spacey titled "Bringing Down the House" is based on them.
General blackjack beginner mistake easy to avoid
Starting out in any game can be hard, but a general rule of thumb is to always make sure that you have read up on the terms and conditions for any Blackjack variant you have decided to play.
Another mistake to avoid is to play any random Blackjack variant, or at an online casino without a license.
Make sure you look up the Blackjack variant you want to play and research the online casino you wish to play at beforehand.
We advise you to refer to our user-friendly guide to casinos offering Live dealer casino tables to find suitable casinos to play at.
Frequently asked questions
Reaching the 21 value with your cards will make you beat the dealer. Although there is no guarantee that any strategy you use in a Blackjack will make you win the game, certain strategies will help increase your chances of doing so.
The payout ratio of 3:2 generally means that you will be paid NZ$3 for every NZ$2 you wager on a game of Blackjack which is the standard payout for mostly any online casino and will contribute to a slightly higher House Edge for the online casino you play at.
Playing Blackjack is not illegal in New Zealand, however, you should always make sure that the online casino you play at is licensed to operate.