Classic types of Roulette
Roulette found its feet in the 18th century in France and has gained momentum and status over the decades to solidify its top-tier ranking on the casino floor, both online and otherwise.
As things developed, this popular casino game followed suit. The following three variations of this game are most commonly found in online casinos in NZ. 
European Roulette
European Roulette is easily seen as both the most well-known and popular variant of Roulette seen worldwide.
European Roulette consists of the standard Roulette wheel and 37 pockets, of which one pocket is a zero or "house pocket."
Most players prefer playing European Roulette due to the reasonable house edge of 2.70%.
American Roulette
American Roulette differs from its European counterpart in one significant way: the presence of the extra pocket.
This pocket is known as the double zero "00" pocket and increases the house edge to 5.26%.
The relatively steep house edge is what puts most players off this roulette variant.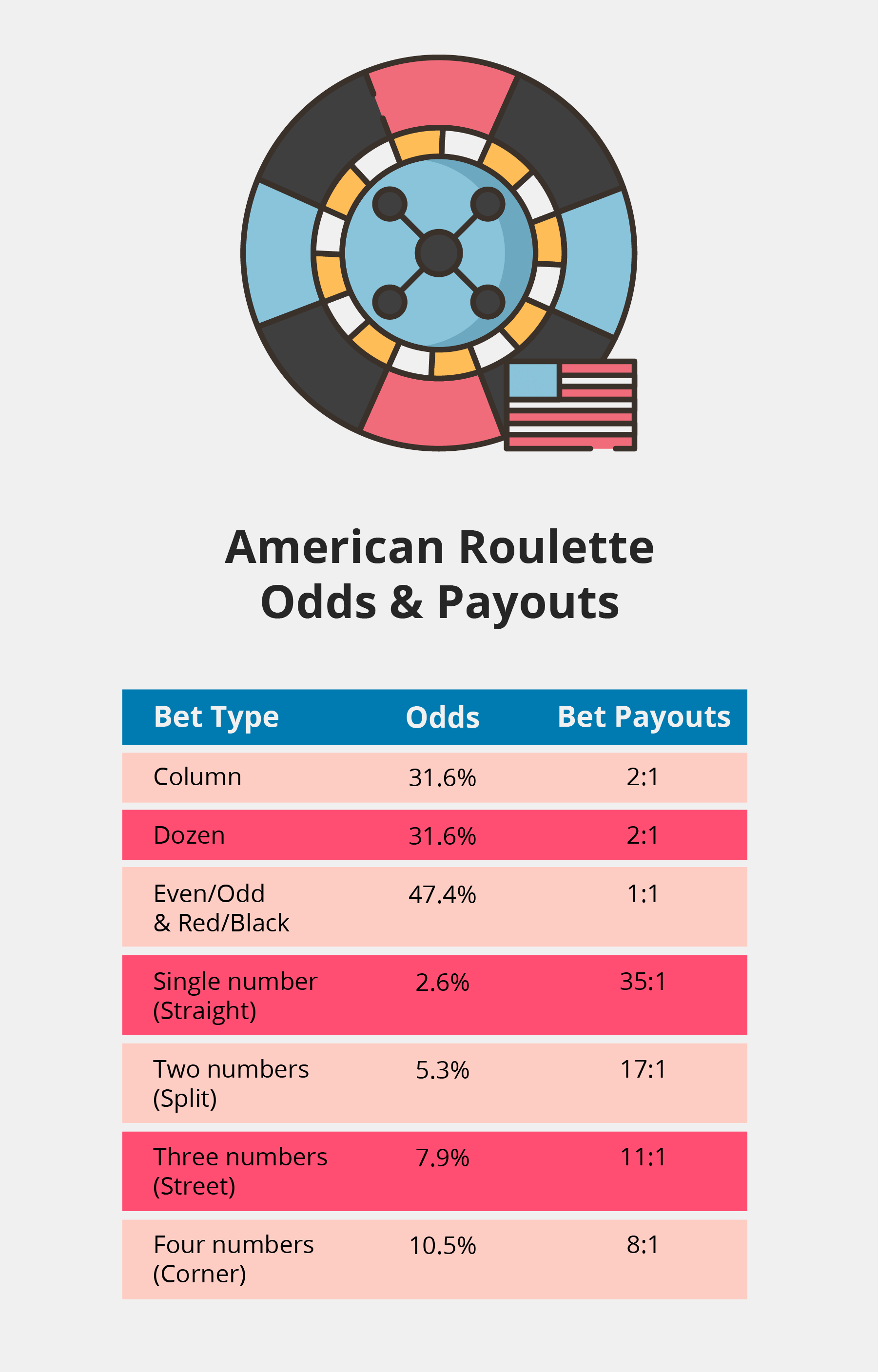 French Roulette
French roulette is quite similar to European roulette in almost every way. There are, however, a few key differences that earned it a spot on our list.
The most significant differences lie in the betting options available in French roulette.
French roulette offers betting options like Orphelians and Tiers du Zero, and regular bets usually have french names such as pair/impair for what is usually known as odd/even.
French roulette also has the "La Partage," and "en Prison" rules which allows players to get 50% of their wagers returned when a zero is spun (terms and conditions do apply).
When these rules apply, they decrease the house edge to 1.35%.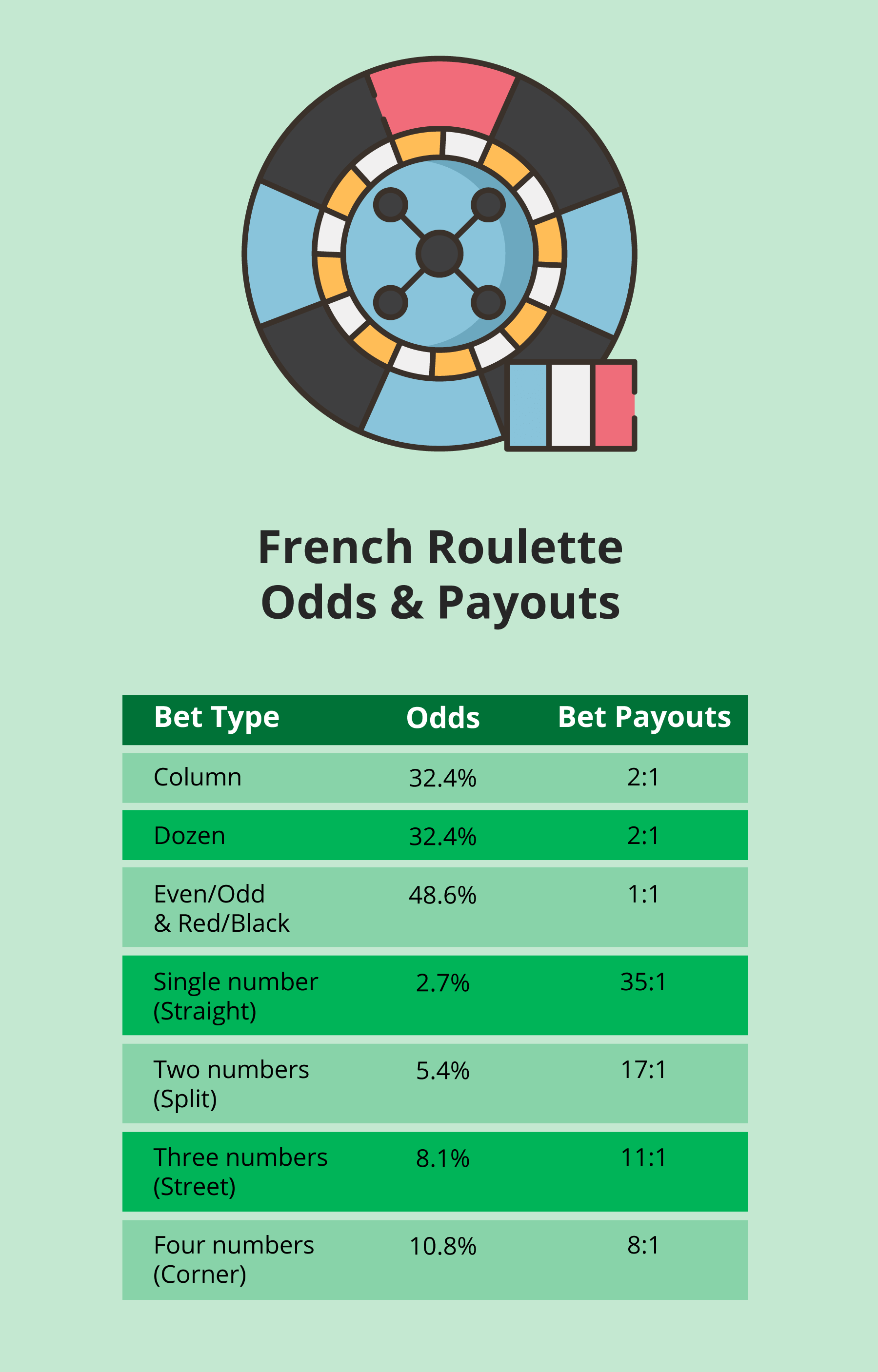 Roulette variants for online players
With the increase in demand for high-quality live dealer games, developers like Evolution Gaming have stepped up to deliver fantastic options that players can enjoy from the comfort of their homes.
These are some of the roulette variants to pokie players online.
Live Roulette
Live roulette is most popular with newcomers as it is an excellent way for players to acquaint themselves with the game.
Live roulette works very much in the same way roulette works in land-based casinos. There is usually a choice between European and American wheels.
There is also a live dealer present to facilitate gameplay.
Mini Roulette
Mini roulette is essentially a mini version of roulette. There is a smaller wheel with only 13 pockets. The house edge for this variant is a staggering 7.89% which is what turns most players off.
If the "la partage" rule is in play, it brings the house edge back down to 3.85%, which might make it worth your while.
This variant is used mainly by newcomers that wish to acquaint themselves with the game.
Multi-Wheel Roulette
Multi-wheel roulette is exactly what it says. It is based on standard European roulette with the exception of having up to 8 wheels in play.
It's worth noting that your bet applies to all wheels that are in play, meaning players will have to keep an eye on their bankroll.
Double Ball Roulette
This great variant from Evolution Gaming adds an extra thrill to European roulette.
It has two balls in play and offers players a choice of payouts depending on where the balls land.
Triple Bonus Spin Roulette
The main drawing card for this variant is its terrific RTP of 98.11%. This game is not a variant of either European or American roulette but is a new design that features a bonus pocket for bonus spins.
Lightning Roulette
Lightning Roulette is basically French roulette with the pizzaz of a game show. Rounds are quick and offer multipliers that can increase your winnings significantly.
Roulette Royale
Roulette, with a progressive jackpot, found its way home with Roulette Royale. Watch the jackpot grow with every spin!
Astro Roulette
This variant offers a mysterious change of pace as it combines roulette with astrology.
Double Action Roulette
High-risk roulette at its finest with a house edge of 12.27%. The game has a standard roulette wheel with the exception of two rows of numbers giving players the chance to wager on both sets of numbers.
Age of the Gods Roulette
This version of Roulette is probably the most fun. There is a 3D wheel, a progressive prize pool, and the option for bonus rounds.
Pinball Roulette
This is a mash-up of two famous games: pinball and roulette. This pairing is unique and entertaining.
Key Bet Roulette
This variation added an extra section to the wheel and a side bet option where players can make an additional wager.
Slingshot Roulette
Slingshot Roulette is one of the more interesting roulette variants. It is a fully automated game that combines traditional Roulette with the brilliance of technology.
This variant offers a truly immersive experience for punters.
3D Roulette
As you can probably judge from its name, this version of roulette is packed with incredible graphics, features, and audio effects.
It allows for customization of the wheel allowing players to turn this into their own perfect roulette.
Lucky Star Roulette
Lucky Star Roulette is where East and West meet in a creative roulette variant. The most obvious difference would be the star-shaped wheel.
This version of roulette only has numbers 0-8 that repeat randomly and offer unique betting opportunities.
Ra Roulette
Ra Roulette is for extreme roulette enthusiasts. It offers customizable graphics and sounds along with interesting statistics and information.
Ra Roulette also includes several additional betting features that could lead to terrific payouts.
Which Roulette variation should you choose?
Knowing which roulette variant is best suited to you might take some figuring out. There are quite a few factors to consider such as variance, house edge, and payouts.
The biggest factor to consider is the house edge as it directly impacts your bankroll. We've compiled this list to offer some guidance.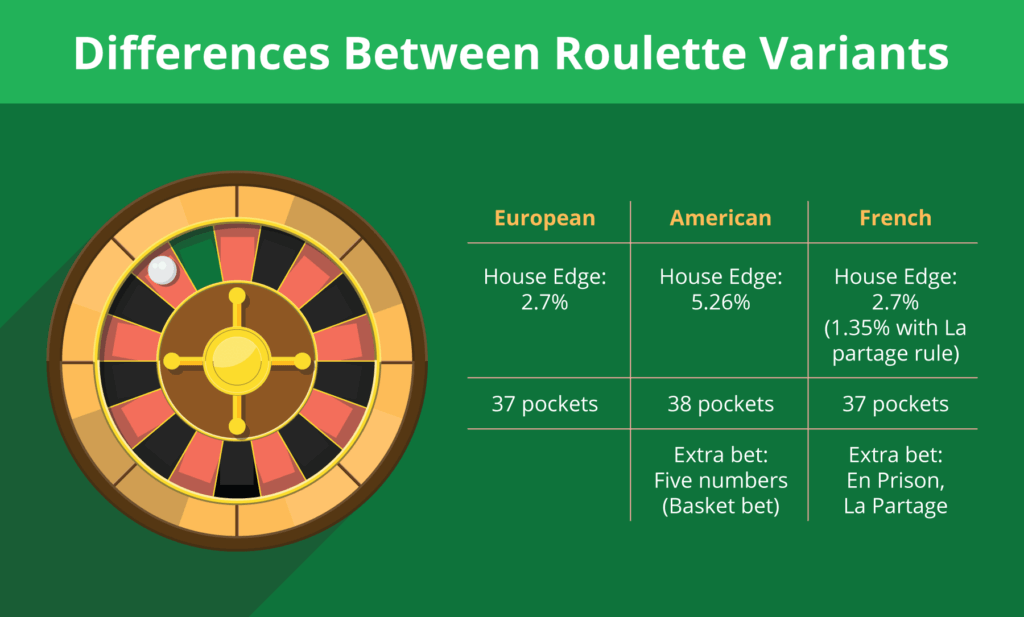 Roulette variants with the lowest house edge
Avoid American roulette if you're looking for a variant with a low house edge, as American roulette typically has a higher house edge.
Also, consider variants with the La Partage rule in play as this influences the house edge significantly.
Some roulette variants with a low house edge are:
3D Roulette
Astro Roulette, with its house edge of 2.70%.
Roulette variants that payout the most
Triple Spin bonus roulette offers winnings of up to x12000 your original wager.
Age of Gods is a variant that can pay up to 100x the wager.
Key Bet Roulette is a big hit with those seeking a big payout, with its possibility to win up to 100x the wager.
Double Ball Roulette is a terrific way to stack the odds in your favour as it has two balls in play, thereby increasing your chances by 100%.
The best variants to try when you're new to casino
With its smaller wheel, Mini Roulette is an excellent variant to start with as it's not quite as intimidating.
Astro Roulette is also a great place to start because it follows a similar format to mini roulette by only having 12 numbers on the wheel. It does, however, offer slightly higher payouts.
With its reasonable house edge, Classic European Roulette is always a terrific place for beginner players to get acquainted with the game's rules and betting strategies.
Roulette types to play if you're a pro
Triple Spin Bonus Roulette offers an exciting twist for seasoned players. Due to its relatively high house edge, it won't suit inexperienced players, but if the house edge doesn't bug you and you're after a bit of excitement, give this wheel a spin.
Key Bet Roulette is always a hit with more experienced players looking for a bigger-than-usual payout. This variant offers a possible win of 100x your wager.
French Roulette could offer an interesting change of pace for roulette pros. Acquaint yourself with new rules if you're up for the challenge.
Roulette variations you should avoid
Most people consider American roulette to be the variant to avoid due to its significant house edge.
Multiwheel roulette is also one to avoid if you're not 100% sure of your game. There are a lot of variables to consider, and they can easily overwhelm your bankroll if you're not on top of it.
No matter what variations of this classic game you find online, there will always be a spot for traditional roulette. It remains a beautiful game of chance and excitement.
Frequently asked questions
There is no real way to determine this, but if you ask a seasoned dealer or croupier, they will most likely say 17.
Mini Roulette is the easiest way for beginners to get to grips with the rules and betting strategies.
No, however, always make sure you're seeking out a licensed casino.