Most popular Dice games in New Zealand
1. Craps
Popularized on film and TV, Craps is the leading dice game worldwide, offered by all top casinos in New Zealand. There are also many Crap Variations, providing a wealth of gaming choices to Dice enthusiasts. The Craps table is typically the most boisterous area of a busy casino where players and spectators gather to cheer on the Shooter.
Played with two dice at a purpose-designed table, bets are placed on the resulting combination from a dice throw. Craps has a wide variety of bets but is an easy game to learn and a thrill to play.
2. Sic Bo
A dice game originating from the Far East, Sic Bo is the most popular dice game in Asia and has developed a growing following in other parts of the world. Sic Bo is in many ways similar to Craps however, three dice are used in the game and the selection of bets available differs.
3. Hazard
The most popular dice game in New Zealand within the past centuries, backroom Hazard games could be found in just about every town in the country. The British precursor to Craps, the main differences between the games are mostly a matter of language.
Using two dice, the caster throws to establish the main point while players place their bets on the combination results.
4. Chuck a Luck
A neighbourhood creation from the Land of Oz, Chuck A Luck is as familiar to Kiwis as their favourite togs. Chuck A Luck uses three dice suspended in a spinning cage to generate a combined result.
Players bet on a dice number and the payouts increase according to the number of times their number appears on the three dice.
5. Simplified Craps
As the name implies, this Craps variant is easy to play and has grown in popularity at the best online casinos in New Zealand. An excellent introduction to Dice games for the novice player, Simplified Craps offers basic win-lose bets that are easy to understand.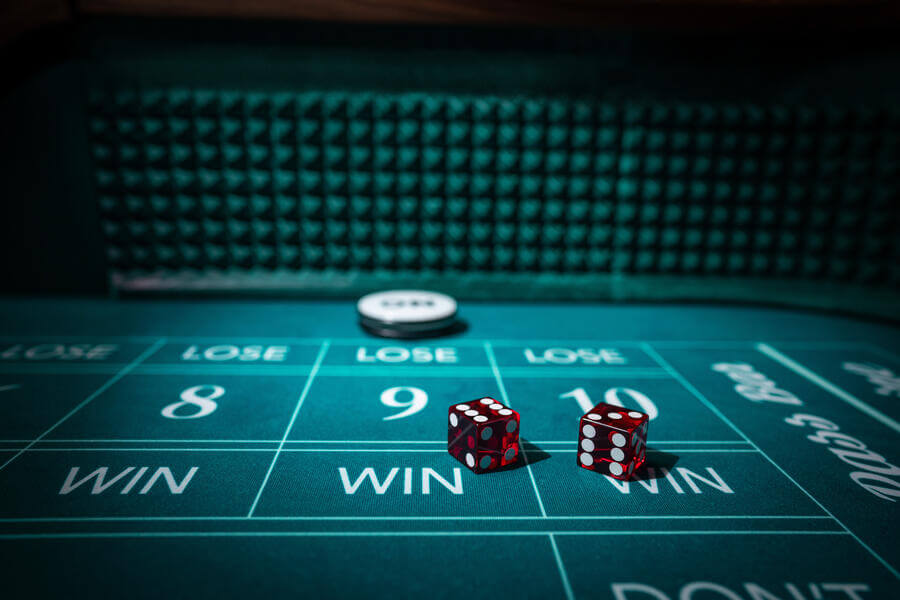 Played at a standard Craps table, this variant offers almost all of the thrills of the classic game without the complex betting choices.
Is it safe to play Dice games?
New Zealand players enjoy the freedom to play at licensed offshore online casinos that are internationally regulated. Kiwis can safely place wagers, maintain online accounts in NZD and regularly withdraw winnings on secure online casino platforms that use the best payout options. Online casinos that are licensed in the jurisdictions of Curacao, Malta Gaming Authority & the UK Gambling Commission are recognized as the best and safest.
Online casinos use Random Number Generator (RNG) software to replicate dice throws. This technology ensures that number combinations cannot be predicted or manipulated by casino operators or players. RNG technology is used by most governments to select national lottery results. It's a trusted technology used across the online gaming spectrum to ensure fairness.
Are Dice games legal to play in New Zealand?
Yes. It is legal to play online casino games – including dice games – that are provided by any online casinos – even if they are not based in New Zealand.
NZ players are free to play at any offshore online casinos and may take full advantage of all of the products and services offered by these operators.
Online Gaming has become a very popular pastime in New Zealand. Players who have questions can find answers available at our dedicated page on Responsible Gaming.
What are casino Dice games?
Casino dice games are games of random chance where players bet on the outcome of a roll. Dice games are far older than playing cards and have been enjoyed around the world in most civilizations for millennia.
Why play Dice games Online?
With today's instant connectivity to the world around us, Playing a dice game online has never been easier or more convenient. Players can enjoy a session in the comfort of their homes or on the go with smartphones and tablets.
Another good reason to play dice games online? The best online casinos also offer the best bonuses and best promotions to both new and existing players.
Online Dice games vs Dice games in Landbased Casino
| | | |
| --- | --- | --- |
| | Online Dice games | Dice games in Landbased Casino |
| Play from your home | ✔ | ✖ |
| Bonuses | ✔ | ✖ |
| Promotions | ✔ | ✖ |
| Live Online Casino | ✔ | ✖ |
Play from your own home
Online casinos offer players the convenience of playing great Dice games from home or from wherever since most online casinos also offer a mobile casino option.
Online casinos are also open 24/7 and provide a wider range of Dice game choices than land-based casinos.
Bonuses
Players who join online casinos are often rewarded with bonuses and incentives in thanks. These can range from Welcome Bonuses, No deposit Bonuses and Free Spins.
Promotions
Online casino promotions are constantly changing to provide players with an interesting variety of game choices.
Many promotions are focused on table games, including the most popular dice games such as Craps, where players can take advantage of special offers.
Live Casino
The most popular Dice games are becoming increasingly available at online casinos through Live Casino platforms. Live Casino provides the thrills of a land-based casino environment without the need to physically be there. Craps is currently the most popular Live casino dice game worldwide.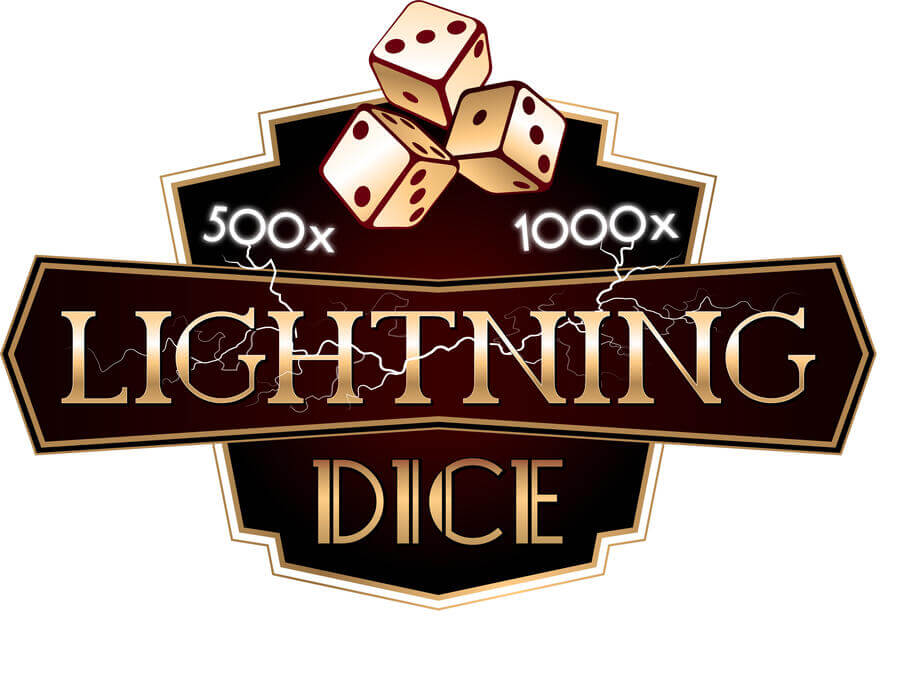 *Did you know?
We at NZ casino are always on the hunt to feature some of the best Free Spins offers.
3 important tips to know before playing Dice games Online
Kiwi players interested in playing Dice games online should always look for internationally licensed online casinos. These licenses (Curacao, Malta, UK) are a guarantee that the casino is legitimate and operates under strict international rules that protect players.
Many established online casinos welcome New Zealand players and accept NZD.
1. Know basic rules, side bets and payouts
One thing most dice games share in common is that they are fairly easy to learn how to play.
Getting to know the various betting options can be more complicated, which sometimes can intimidate new players. Online casinos are aware of this and offer handy bet and payout charts for players to follow and also usually provide access to free trial games.
2. Learn all dice games' betting strategies
For most dice games like Craps and Sic Bo, learning the table layouts will help in understanding how and where bets are placed.
Experienced dice players have well-practised strategies that enable them to maximise their chances of winning.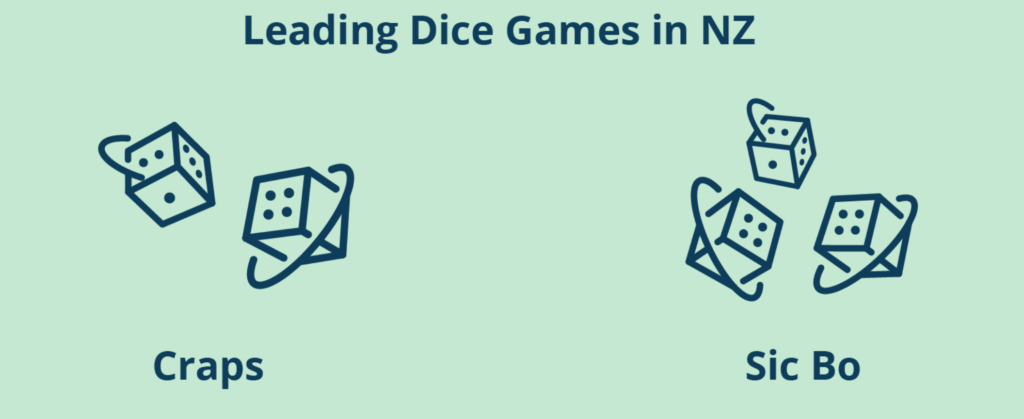 3. Plan your budget and your time
Cash and time management should be the first consideration before starting a gaming session. Experienced players set maximum amounts of money to win or lose over a specific period. This approach prevents players from chasing losses and motivates them to bank profits consistently.
*Did you know?
Live Casino games are increasingly becoming more popular with players in New Zealand because.
Other games with dice
It seems like every ancient culture has contributed to developing the dice games players around the world love to play today. In one form or another, modern dice games can claim a heritage far older than playing cards and far more illustrious than most casino table games.
Banca Francesca
Popular in Portugal, players enjoy a game of Baccarat with dice. Banca Francesca uses three dice and a betting table. The dealer rolls continuously until a Big, Small or Aces combination turns up. Players place bets on which combination will be rolled first.
Bitcoin dice
A dice game based on crypto-currency and gaining in popularity, Bitcoin Dice sees players betting on a number between 1-100 and whether the dice roll will produce a combination higher or lower than the number chosen.
Simple to learn, Bitcoin dice players can still use existing Dice game strategies successfully.
Ricochet
Craps players will be instantly familiar with the Ricochet dice game, the table set up for betting and the nomination of a shooter.
Created by and for casinos as an interesting alternative to Craps, Ricochet uses three dice and offers a wide variety of side bets.
Under And Over Seven
Probably the simplest online casino dice game, as the name implies, players bet whether a roll combination will result in above seven, below seven, or on seven. These are the only three betting options in the game.
Play Dice games on mobile
Most online casinos now offer a seamless mobile experience to players. The full range of online dice games can now be enjoyed on smartphones and tablets with little or no reduction in graphics and audio quality. Players simply need data or internet access to play their favourite casino dice games.
Popular Dice games providers
Craps: Playtech Gaming, Microgaming & Nucleus Gaming
Sic Bo: Habanero Gaming, OneTouch Premium Mobile Games
Yatzy: Spigo Gaming
Bitcoin Dice: 4ThePlayer Gaming, OneTouch Premium Mobile Games
Live Dice Games: Stakelogic Gaming, Evolution Gaming
Frequently asked questions
Craps is a Dice game that has grown in worldwide popularity also in New Zealand, thanks to its availability to play at online casinos. Long a staple table game in the North American casinos, Craps and many variations of the traditional game are now enjoyed by players around the globe. The objective of the game is to bet on the number combination that results when a pair of dice is thrown.
Sic Bo is an exciting dice game that hails from China. Using three dice, the game allows players to wager on a wide variety of possible results. Similar to Craps, the Sic Bo table can also be found in popular casinos in New Zealand and is designed to illustrate the many different bet choices and the corresponding odds. Sic Bo is second only to craps in dice game popularity at most online casinos.
Casino dice games are based on random chance. There is no way for players or the casino to predict the result of a dice roll. The best dice game strategies refer to methods of betting. These betting strategies depend on the particular game, the nature of the betting choices and players' individual appetite for risk.